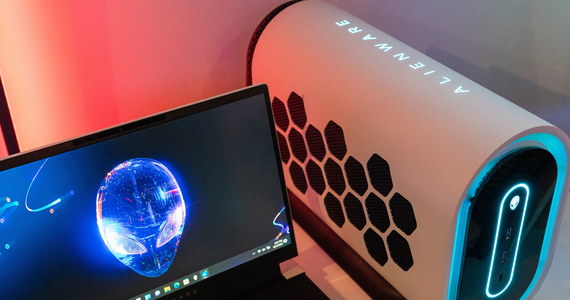 However, it must be remembered that the needs of players are constantly evolving, and the American company is constantly looking for ways to improve performance. One of the ways is to be the Polaris Concept, developed on the basis of Alienware Graphics Amplifier – this is the experience of teams, clients and the entire gaming community.
When designing this concept, the manufacturer took into account a number of versatile functions for game developers who will be able to use graphics at the desktop level in mobile games. It also took into account where and how people play today – remote work has changed the face of our workstations.
The Polaris concept has a futuristic Alienware Legend 2.0 ID look with soft, rounded edges, thoughtful cable routing and Alien FX loop lighting. The device can be positioned both vertically and horizontally, which should be appreciated by people with limited space on the desk.
The built-in power supply has been removed and in its place we have used two AC adapters. One version of the Concept Polaris is powered by two AC 330W power supplies, while another variant has two AC 425W power supplies. This solution allows you to provide the dedicated power needed to handle graphics in desktop games, while reducing the occupied internal space.
The dimensions of this concept allow the use of 16-inch gaming graphics cards. The whole thing is, of course, liquid cooled – we have a 240mm Cryo-TechTM cooling system and Element 31 thermally conductive material. The creators assure that such architecture will enable easy overclocking of the GPU with the Alienware Command Center and will allow you to fully use the dormant potential.
It is also worth paying attention to the availability of USB-A, USB-C and 2.5Gb Ethernet ports. In this way, users can get a central hub to further expand the gaming ecosystem – keyboard, mouse or complete network solutions they need.
Of course, this is just a concept and many of the functions and assumptions presented will still evolve. Who knows, maybe even the purpose of the device itself will be redefined, because we are not interested in introducing innovations only for themselves.