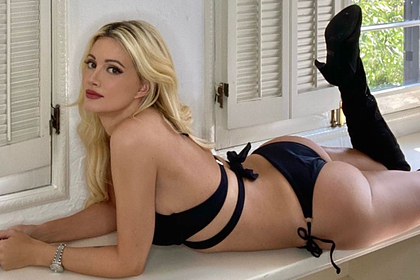 Former model Holly Madison revealed the difficulties of life in the mansion of the founder of the American erotic magazine Playboy Hugh Hefner. Her story publishes Daily Star.
The now 41-year-old celebrity said that she lived in a businessman's house from 2001 to 2008, adhering to the strict rules of the owner. It is known that the entrepreneur forced all the girls to orgies with his participation and forced them to take drugs and alcohol. They also had a curfew and a ban on relationships with other men.
In addition, according to Madison, she felt constant pressure about her appearance from Hefner, who made all the residents of the mansion look "the same." The model noted that he offered her free plastic surgery, as he was not satisfied with her figure.
"Hugh loved curvy girls with bleached hair who always had to wear sexy outfits. In fact, it bored many of the girls who lived under the same roof with him, "she explained. "I couldn't stand the pressure and no longer wanted to look like everyone else."
The heroine of the material admitted that at one point she decided to radically change her image, and returned to the mansion with a short haircut. Hefner, seeing the new image of Madison, became very angry and began to shout at her. "You look old and cheap and ugly," he said.
Former partner of Playboy founder Jonathan Baker has confirmed this conflict. "Once Madison put red lipstick on her lips, he also got pissed off and made her wipe off her makeup. In fact, Holly did this because she became depressed from a stressful life. I noticed how her behavior changed every day, "the man commented.
In November, another model talked about parties at the Playboy founder's mansion. Jenna Bentley moved to Hefner's estate at the age of 18 and stayed there for a year. She signed a "very tough" nondisclosure agreement, and she was also forbidden to have a boyfriend. In addition, models who did not return home by 21:00 stayed on the street for the night.