Steve Jobs almost always appeared in public in the same clothes:
▪ New Balance 991 sneakers (and similar models),
▪ Levi's classic blue jeans (eg 501 series),
▪ A black turtleneck that didn't get much attention.
It was in this form that he appeared before employees at various corporate events.
Steve Jobs didn't change his style during his best years at Apple
This is how he was dressed when he introduced the very first iPhone, which clearly divided the world of smartphones into "before" and "after".
Few people know that all of his turtlenecks are designer. Nothing special but there is a whole story behind the creation and creator of each of them. And she definitely deserves to be told.
Why Steve Jobs almost always wore the same clothes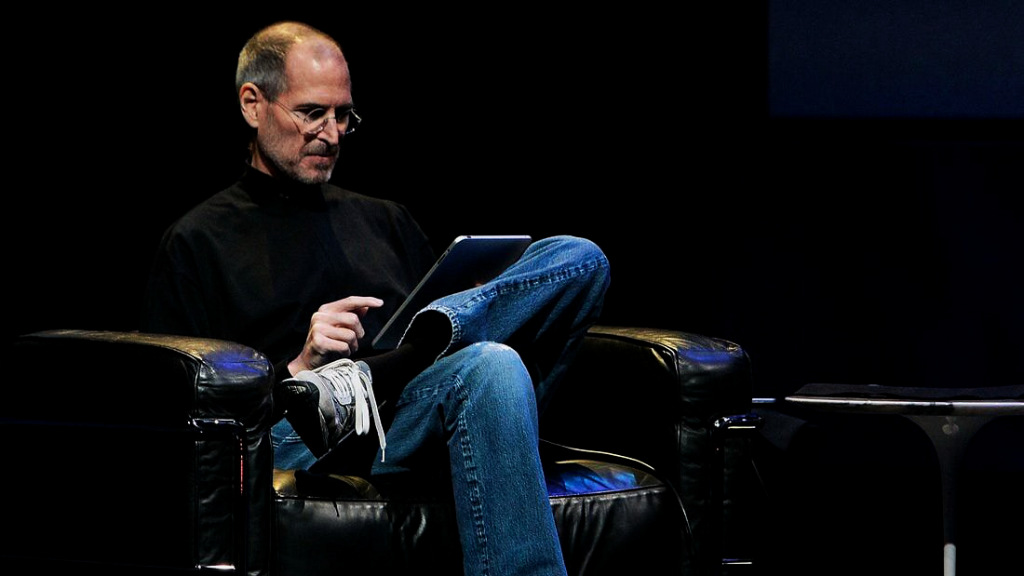 Steve Jobs was always easy to recognize just by the style of his clothes.
Collecting the same type of wardrobe is much cheaper than making it as diverse as possible. However, Steve Jobs was definitely not interested in the financial issue in the very first place.
He bought the same Mercedes SL55 AMG every six months in order to be able not to hang license plates on the car. What kind of money for clothes after such "antics" can we even talk about ?!
Let's just say that Steve Jobs followed his impeccable style for two reasons.
▪ One sidehe did not want to spend too much time on the daily selection.
▪ On the other sidehe was inspired by the very principle of corporate style, when all employees of one company are dressed the same way.
It's a pity that his idea of ​​a "uniform" in Apple's too open views was simply rejected. Therefore, he decided to come up with a memorable "corporate" style for himself alone.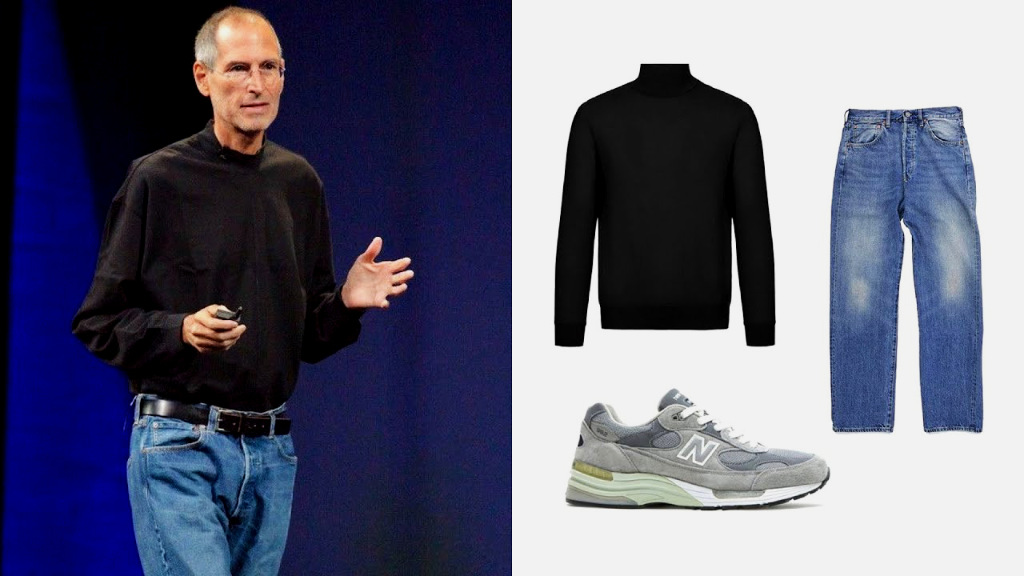 Insanely recognizable style, for which only three wardrobe items are enough
One day, an Apple executive was invited to AT&T and asked to wear a suit. He refused to "dress up" like that and replied:
"Apple employees are not used to wearing suits. We don't even have our own corporate style."
By the way, Steve Jobs thought about corporate style after another trip to Japan in the 80s.
He visited the Sony office and was inspired by the same type of wardrobe of employees, which, apparently, was supposed to unite them in a single creative impulse.
In the biography of Jobs by Walter Isaacson, there is a mention of his conversation about exactly the same clothes in the company with Akio Morito, chairman of the board of Sony at that time:
"This question confused him, but he replied that after the war, none of the locals had practically no clothes, so companies like Sony had to provide their employees with at least something to wear."
It was after the trip that he contacted Sony's corporate wardrobe designer Issey Miyake, who created hundreds of identical black turtlenecks for him.
Who Is Issey Miyake and Why Jobs Chose His Turtlenecks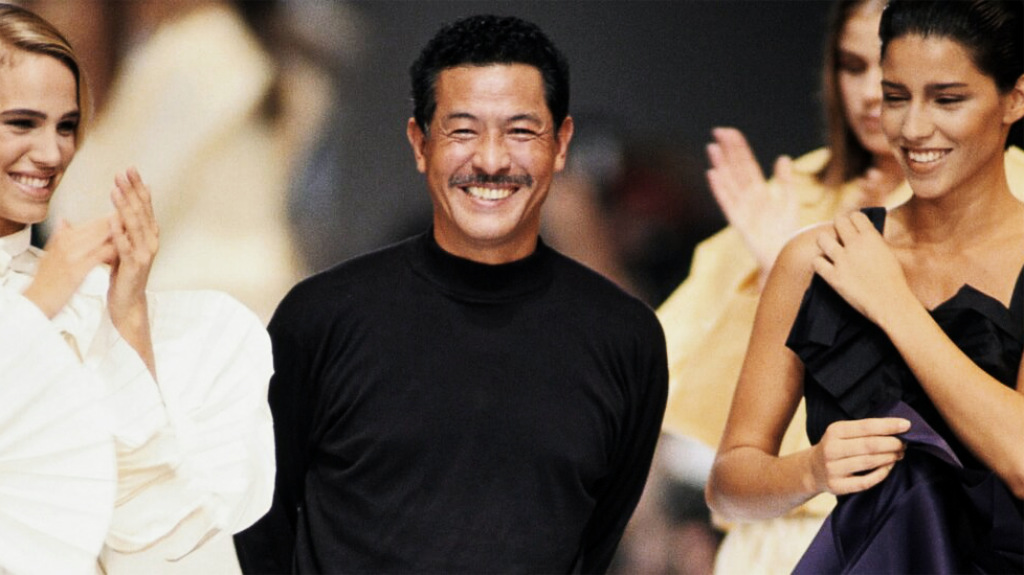 Issey Miyake sometimes himself was not averse to trying on the style of Steve Jobs
Issey Miyake founded and managed Miyake Design Studio.
He was the inventor of pleated fabric, which is popularly referred to as "pleated".
In addition, he also came up with the A-POP (A Piece of Cloth) clothing line, which consisted of wardrobe items cut by a laser from a single piece of fabric.
Among other things, he also developed the corporate culture of the world's leading companies. He came up with clothes for Sony, which has already been discussed above.
Miyake ran 21_21 Design Sight, a design museum in Tokyo. He also had his own public interest, cultural artefacts, and talent development foundation, the Miyake Issey Foundation.
After a visit to Sony, Steve Jobs contacted Miyake and asked him to come up with something for Apple:
"It became clear that I needed this type of communication with Apple employees. I called Miyaka and asked him to design a vest for my guys. Returned to the company with a few samples and said that it would be great if everyone wore these. I was literally booed."
Uniforms for Apple employees were not meant to be. Perhaps this is for the best. However, a friendship developed between Jobs and Miyake.
"I asked him to make me some of his black turtlenecks, which I liked, and he made me a whole hundred."
By and large, it is precisely the friendship with Miyake that Jobs owes his corporate identity, which they still continue to copy.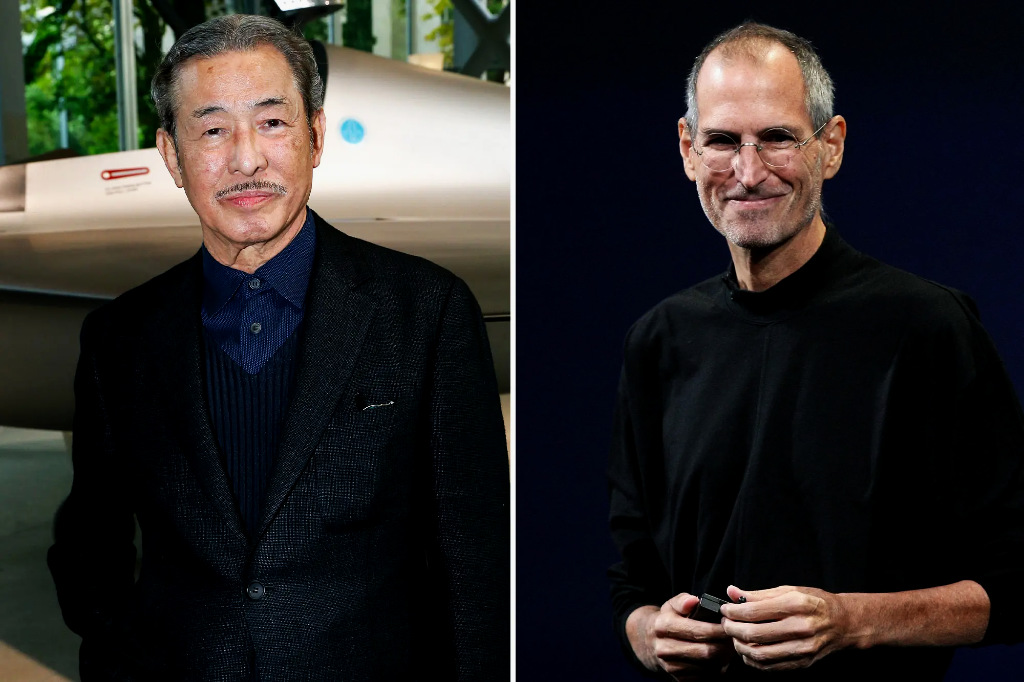 Issey Miyake and Steve Jobs in old age
There are plenty of claims online that Jobs' turtlenecks were made by Armani. However, Steve Jobs personally spoke about their origin in his own biography. Therefore, any other information can be safely considered a lie.
Issey Miyake died in August 2022 at the age of 84. He made a huge contribution to the fashion and design industry, for which he was awarded the Japanese Order of Culture.
It was the turtleneck that was the main attribute of the style of Steve Jobs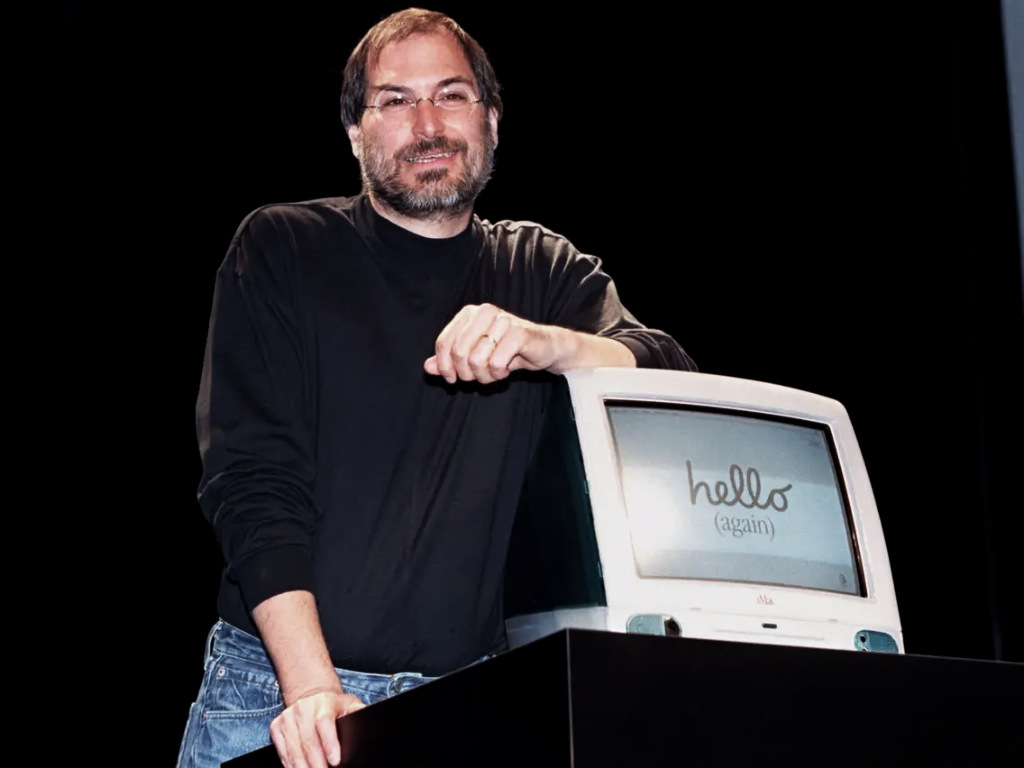 Plain black turtleneck turned out to be the main element of the style of the founder of Apple
This is precisely the conclusion reached by the New York Times in the framework of big study Miyake's design work after his death.
The publication noted the absolute absence of folds in the neck area, cut somewhere at the turn of T-shirts and sweatshirts, jacket lines.
It was because of wearing Miyake's black turtlenecks Jobs was called the most recognizable director in the world.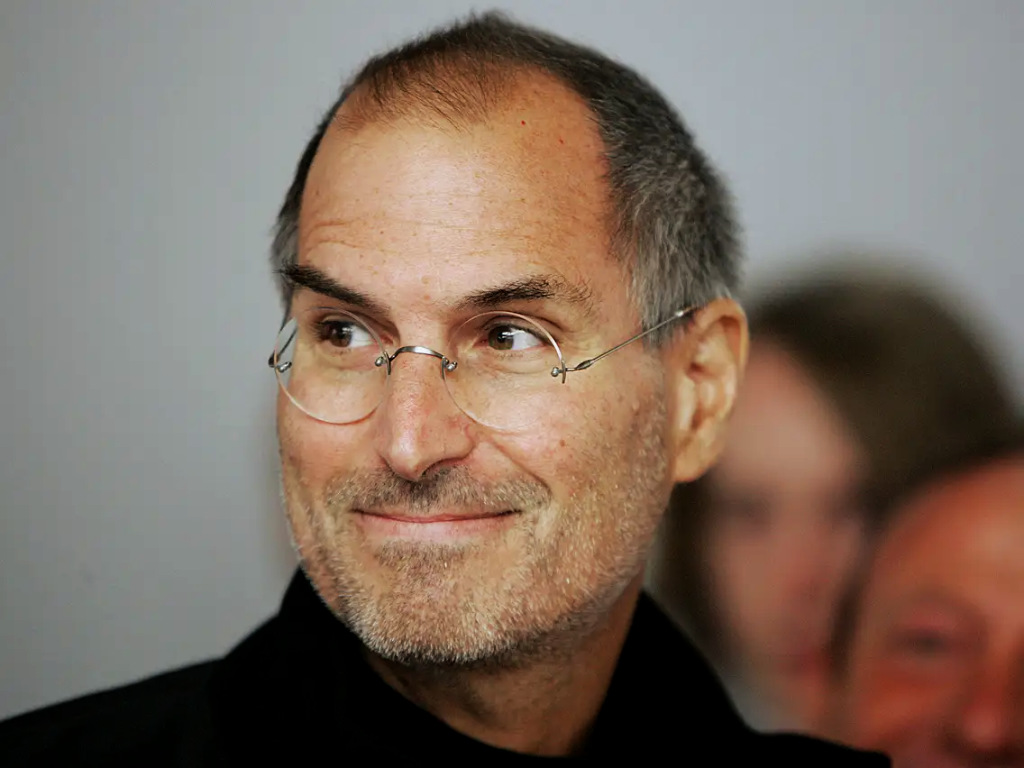 None of the leaders of large technology companies has ever had such a recognizable style.
It's hard to say exactly how many turtlenecks Miyake made for Jobs, but The Hollywood Reporter published the words of the ideological mastermind of Apple, which confirmed that a lot:
"I'll have them for the rest of my life."
Unfortunately, he was right.
Steve Jobs' black turtlenecks eventually became a collector's item. They now and then appear at a wide variety of auctions. In 2016, one of them (though with a print) sold for 3 thousand dollars.
Miyake himself stopped producing turtlenecks, like Steve Jobs, back in 2011. However, in the assortment of his company, a similar model appeared in 2017.
Jobs' style has been copied before and will continue to be copied.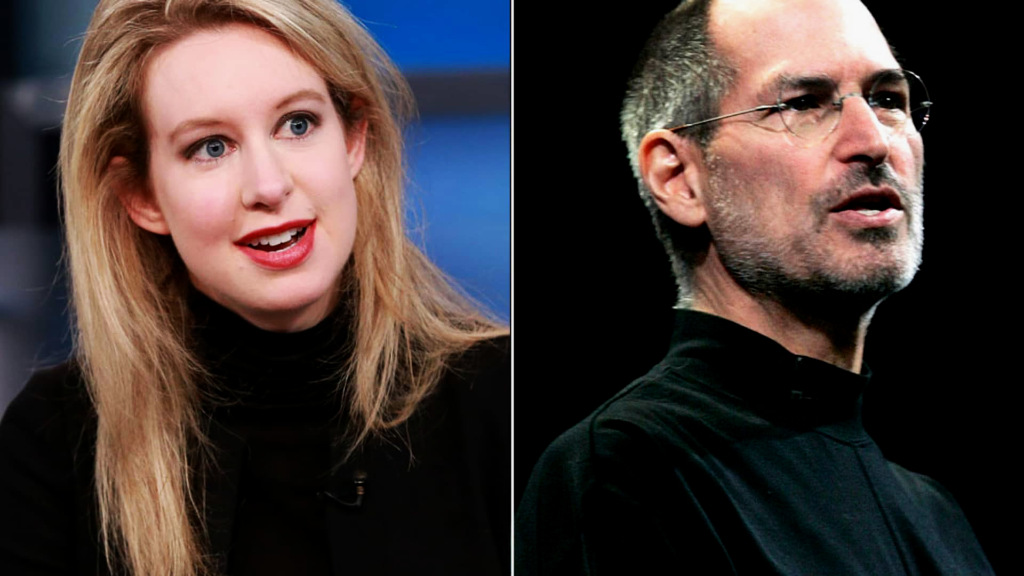 Elizabeth Holmes has repeatedly claimed that she associates herself with Steve Jobs – this is clearly seen in the clothes
Probably one of the most famous characters who copied the style of Steve Jobs was Elizabeth Holmes, founder of Theranos.
Regrettably, her story was not as successful as that of the founder of Apple.
In 2003, she promised that she would be able to create a mini-laboratory that would test a person for two hundred diseases with just one drop of blood.
The idea seemed fantastic, but it is in the US leadership. The presence of such connections has given Theranos the opportunity to acquire investors who have invested billions of dollars in the company.
It's a pity, in fact, Theranos didn't have a working technology, the company deceived the public for a long time, was not sure of the reliability of the results, and even drove one of the scientists to suicide, who realized the existence of a deception.
When it opened, the company sunk into oblivion.
There were many imitators. But not a single one could reach the level of the original of them. Steve Jobs, thanks! And not only for the iPhone and corporate identity.
📸 All photos in the article:


To bookmarks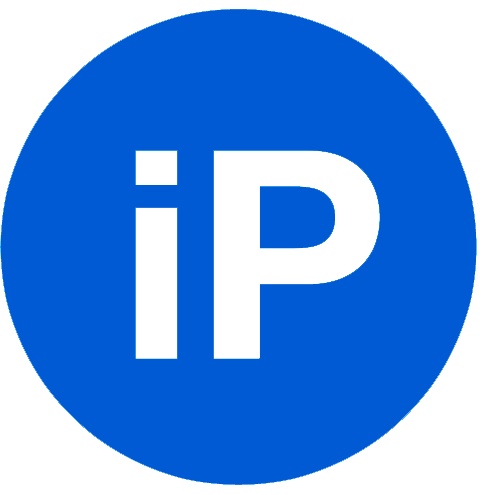 iPhones.ru
Steve Jobs' black turtleneck designer also made suits for executives at Sony and other big companies.


Before

←


TikTok is testing the Podcasts feature. You can listen to the sound from the video in the background

After

→


First full trailer for 'Scream 6' starring Jenna Ortega released