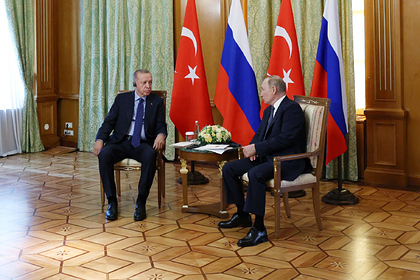 Financial Times: The West is concerned about cooperation between Moscow and Ankara after the summit in Sochi
The West is concerned about the deepening cooperation between Moscow and Ankara after the meeting of the Russian and Turkish leaders in Sochi. This is reported Financial Times citing six unnamed sources.
In particular, the United States and the European Union are alarmed by the statements of Presidents Vladimir Putin and Recep Tayyip Erdogan about closer cooperation in the field of economy and trade after the August 5 summit.
The publication said that one of the sources criticized Ankara for its "opportunist" stance. The publication also notes the statements of the US authorities about the risk of secondary sanctions. They can be introduced against countries that will help Moscow circumvent the restrictive measures imposed against it by the West.
In a conversation with the publication, another senior source suggested that the EU may encourage companies to refuse cooperation with Ankara because of its active interaction with Russia. At the same time, other interlocutors of the newspaper rejected such a scenario, doubting the possibility of its implementation.
Earlier on August 6, Recep Tayyip Erdogan said that Russia and Turkey had agreed to switch to trading in rubles. According to the president, this "will bring money to Moscow and Ankara."