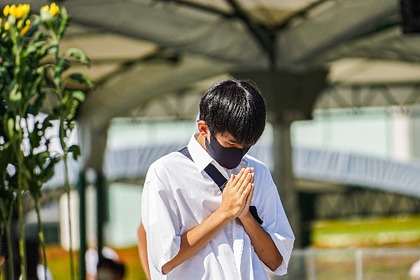 Hiroshima Mayor Matsui quoted Leo Tolstoy at the memorial ceremony for the victims of the bombing
A funeral ceremony was held in Hiroshima in memory of the victims of the atomic bombing. Prime Minister of Japan Fumio Kishida and Mayor Kazumi Matsui spoke at the event. It is reported RIA News. In his speech, he honored the memory of the dead by quoting the Russian writer Leo Tolstoy.
The ceremony opens annually at 8:00 (2:00 Moscow time) in the Peace Park. 77 years ago, this place became a mass grave for hundreds of city residents. At the beginning of the ceremony, wreaths are laid at the monument to the memory of the victims by the city leadership, members of the government and representatives of diplomatic missions. At 8:15 a.m., the time the atomic bomb fell on Hiroshima, there is a moment of silence. At the end of the ceremony, white doves are released into the sky – a symbol of purity and peace on Earth.
"There is a growing belief in the world that the world cannot be preserved without a nuclear deterrent. But in order to protect the lives and property of people, it is necessary to create such conditions under which there would be no other basic solution than the renunciation of nuclear weapons, "said Matsui, the mayor of Hiroshima.
The politician emphasized that it is worth "thinking again about the words of the writer Leo Tolstoy: "You cannot build your own happiness on someone else's misfortune, your happiness lies in the happiness of others."
On August 6 and 9, 1945, there were two exceptional cases in the history of mankind of the combat use of nuclear weapons – the atomic bombings of Hiroshima and Nagasaki. They were carried out by the US Armed Forces at the final stage of World War II.
On March 22, the mayors of Hiroshima and Nagasaki, Kazumi Matsui and Tomohisa Tanue, invited US President Joe Biden to visit these Japanese cities affected by US atomic bombings.