When a Twitter user is outraged to create buzz, they often miss their target. Demonstration with Chamonix advertising, unfairly denounced on the weekend of November 18.
What would a weekend in France be without a good controversy? No matter the accuracy, you have to be annoyed! And as such, the weekend of November 18 and 19 was strong. It all started from one tweet (X), by Nicolas Denescheauwhich produced a clever cocktail capable of igniting the social network: attacking an easy target (the AI), adding a little technocritical indignation and surrounding, in a photo, the object of the anger.
This object is therefore an advertisement addressed to Parisians, inviting them from their dreary metro to go on a ski vacation, particularly to Chamonix. We learn that it was commissioned by the Chamonix-Mont Blanc Tourist Office and that it presents, all in all, a very banal message: " reconnect with nature ". It's not the punchline that bothers Twitter, but rather the small text at the bottom left: " image generated by AI, enhanced by humans ". It didn't take much for the tweet to go viral: a photo of nature generated by artificial intelligence, who are we kidding?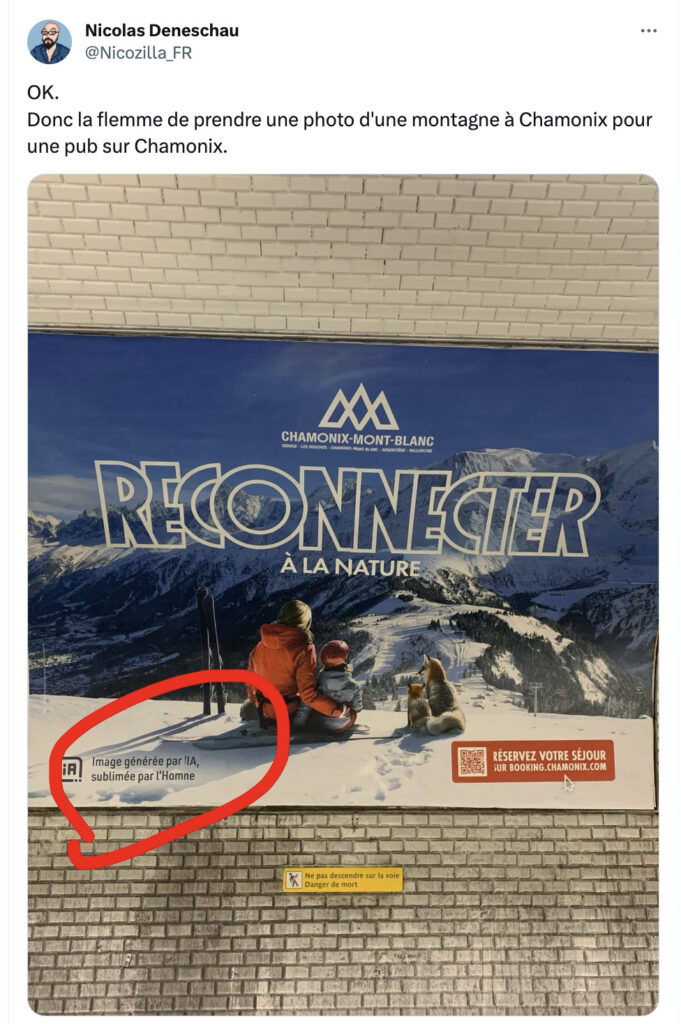 And if this were indeed the case, as the initial tweet seems to say, we could imagine that the message from the Tourist Office is indeed bad. Disguising nature with a generated image, when it is full of very natural beauties, that would have been daring. But as is often the case, when we dig deeper, we realize that the reality is very different.
The photo is not generated and the AI ​​is not lazy
First, there was no " lazy to take a photo of a mountain in Chamonix », as the tweet denounces. Several mountain people, between two offended responses to the message, saw fit to point out that the photo is very real. These are the Col de Voza and Mont Blanc, taken from Les Houches, a town which is part of the "Chamonix Mont-Blanc" tourist label. We are therefore in the presence of a real photograph, which is confirmed by the president of the Tourist Office. in France 3 Regions.
Secondly, in addition to having used the work of a real photographer, which removes any laziness and any caricatured idea that the A.I. will replace us, the Tourist Office also paid a second person for its poster: a graphic designer who used Midjourney. What we understand is that the characters in the foreground and the foxes were created by the AI ​​and added to the very real scene.
In other words, nothing new under the sun: the advertisements are all compositions of several graphic pieces, worked on, retouched, superimposed, integrated, mixed. Another designer would probably have taken people and animals from another photo and added them to the original shot. Here, it was all done with a clear mention of the use of AI that brings full transparency to the person watching, something others might not have done.
It is therefore difficult to understand the wave of anger that Chamonix aroused this weekend when we delve into the subject: two image professionals were paid for their work and one of them is using new modern tools which are changing his Work habits. Passing off this very real work as laziness is in bad faith: we understand very well, if we use Midjourney a little, that he did not simply press an "advertise" button which would have given a perfect result . The photographer used his camera and his talent, the graphic designer composed the advertisement as a whole – and used a tool included in a wide range of digital tools, each more sophisticated than the last. AI is as modern in 2023 as Photoshop's lasso was 20 years ago.
So, what is the problem? Maybe elsewhere.
Fantasizing the mountain, the real problem
If the initial controversy is as gratuitous as it is unfair, we can however raise eyebrows about one aspect of the Chamonix – Mont Blanc campaign. It is related to the highlighting of AI on the poster. If we recognize the agency's welcome transparency, it goes without saying that this logo was not put there entirely out of altruism either. An advertisement is not a medium and does not have a requirement for transparency. So why put this forward so much?
We find a clue in the interview with Nicolas Durochat on France 3 Régions: " It's getting people talking about us. Among the 850,000 people who saw the post, some may come to ski in our resort », he says to the regional magazine. We then understand very well that the desire to highlight AI was calculated. Was the Tourist Office looking to ride a trend and think it would be praised for it? The fact that he is satisfied with a bad buzz as well as a buzz shows that this detail was knowingly added to get people talking. A small sentence at the bottom left of the ad specifying the same thing would have gone unnoticed.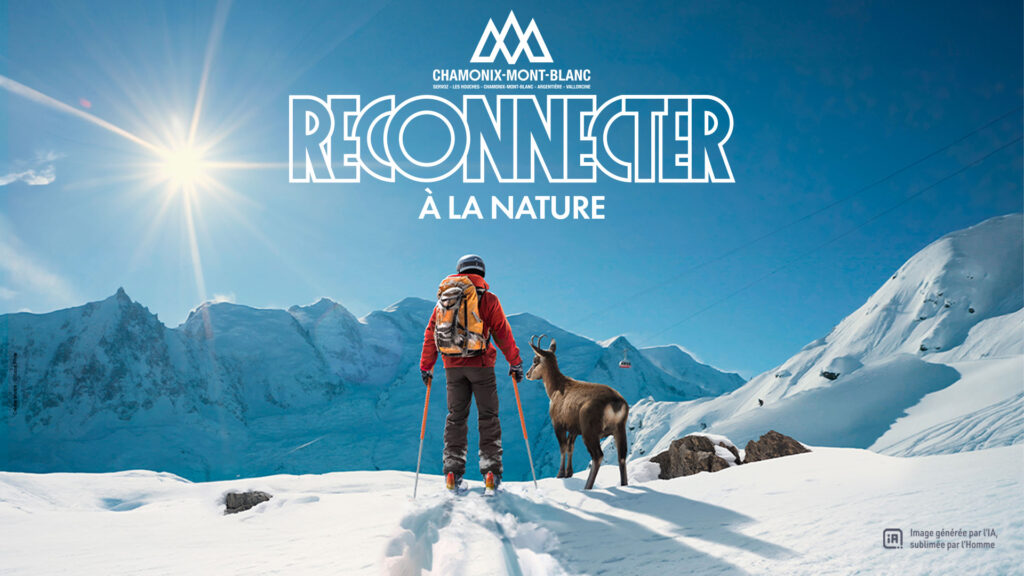 But it's in an interview with My Stay in the Mountains that we understand a little better Nicolas Durochat's strategy for Chamonix: use new technologies… at all costs. A so-called solutionist method which, very often, does not work. Ultimately, doing AI generation out of principle, without it serving a need, much more often brings problems than solutions. Here, behind the unfounded controversy, it is the subtext which can frighten: does the future of the mountain pass through a science fiction vision, which seems straight out of a virtual reality headset with its little characters made of polygons?
And without even mentioning the buzz that caused the French web to react, the Chamonix comm, however techno-enthusiastic it may be, immediately seems dated. While the challenges of protecting our natural heritage require us to take genuine precautions and a humble relationship with the mountains, AI has only served to add tourists to the landscape alongside foxes and ibexes. Very far, in short, from what remains for these majestic ensembles to offer us.
---