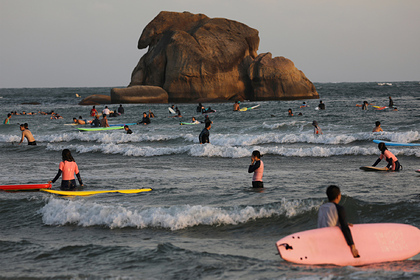 Lockdown prevents 80,000 tourists from leaving Chinese island of Hainan
Nearly 80,000 tourists have been stranded on Hainan Island due to China's lockdown. This is reported Interfax.
It is noted that the popular Asian resort in the city of Sanya on August 4 introduced a lockdown due to the spread of coronavirus. Medical services recorded 229 cases of COVID-19. As a result, the authorities stopped the sale of railway tickets, and also canceled all flights in this direction.
As it became known, tens of thousands of travelers are still unable to leave the city. Restrictions will cease to apply for tourists only after they pass a PCR test five times within a week and receive negative results.
It is specified that hotels during the lockdown period offered tourists a 50 percent discount.
China is reportedly one of the few countries with a "zero tolerance" policy for COVID-19. Anti-covid restrictions in the state are considered the most stringent in the world: even with low incidence rates, entire districts and cities are quarantined.
Earlier it became known that another airline resumed flights from Russia to China. We are talking about Hainan Airlines, which launched flights from Moscow to Beijing once a week from July 12.