Enormously varied and wonderfully lively mix of rhythm and party game with annoying technical weaknesses, in which up to four friends can take part.
Don't let the candy colors fool you: Firstly, Super Crazy Rhythm Castle is a pleasantly challenging rhythm game. Secondly, it's much more than "punched paper" drawn from top to bottom, where you have to tap the correct keys as soon as corresponding markings arrive at the bottom.
Well, typing is of course also part of this. Especially since you are really challenged depending on the level of difficulty you choose. If you only have to manage three keys on the lower one, you have to manage four on the higher one and the patterns are therefore a lot more demanding than you might think when reading it.
The highlight, however, is that mastering the rhythm is usually just the basis for solving the actual problem of the respective level. Sometimes you have to use it to charge tools with which you can then destroy obstacles in order to get to the exit. Other times, you let a machine produce materials that you then have to sort. In between you decide which materials will be spit out and at the end you flip the switch that starts the next round – all for a time, of course.
It's always so stressful that I had to repeat some levels, but never so relentless that I became frustrated. Above all, the various tasks are of course the perfect starting point for making music together, because up to four players tap their feet together. This gives Super Crazy Rhythm Castle even more momentum, especially since all participants decide for themselves which level of difficulty they want to compete on.
The fact that they can also compete with each other in four competitive mini-games rounds off the cooperative fun. I just think it's a shame that you can't get into an open game with total strangers. Why not? Someone organizes a game and instead of just inviting friends, anyone who wants to play can join in – I'd be there!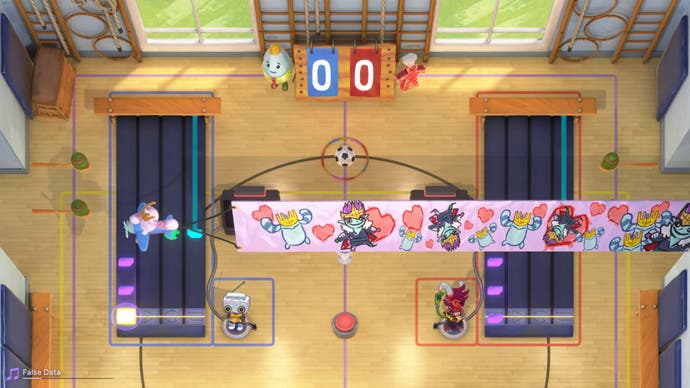 In any case, I wouldn't care that I might be skipped ahead in the story. It's not that great, even if it is certainly entertaining to roam through the castle of an evil king and unlock rooms one after the other with the challenges he manages. Every now and then you have to bring a wooden spoon to a sad gingerbread or do something else – never on a grand scale, but in a way that gives Super Crazy Rhythm Castle an atmospheric setting.
It's just unfortunate that a few little things came up during my time with the game, all of which were bearable on their own, but as a whole annoyed me. It starts with speech bubbles that you can't skip before and in the middle of a challenge, even though you've had to look at them in several failed attempts, and continues with the terribly awkward changing of the controls.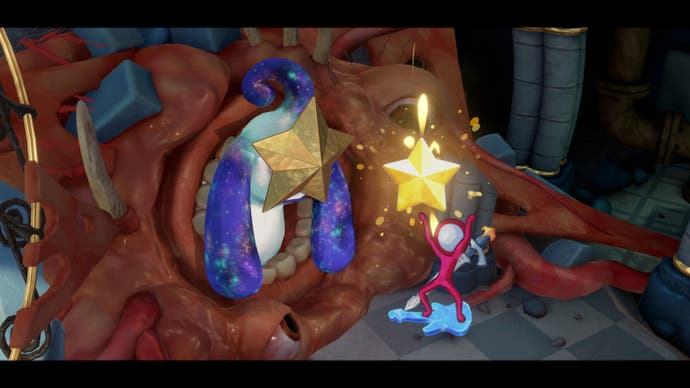 It's great that this is possible! But as soon as you decide to do this, all preset buttons disappear and are still displayed in the Xbox pattern despite the PlayStation controller being connected. Oh, speaking of which: If I connect an original PlayStation controller, I always move two characters at the same time. This could be fixed quickly. But didn't you really notice it beforehand? No, from a technical perspective, Super Crazy Rhythm Castle just isn't quite right.
At least the collection stuff, which includes a few well-known themes from video games, made me somewhat forgiving. They initially strike a retro tone before gaining full momentum. In general, I like the soundtrack with its wide selection of music. It has everything from rock and pop to metal and J-pop. And once you have unlocked the songs, you can tap through them in a pure rhythm game to unlock various bonuses such as additional characters.
Super Crazy Rhythm Castle in the test
Super Crazy Rhythm Castle is a lot cooler than it might seem! The music selection is great, the pleasantly tricky replaying of the pieces requires typing in lively patterns and the surroundings, in which the "rhythm game" template only serves as a basis for entertaining mini-games, works surprisingly well. With a few friends at the latest, the concept of this unusual division of labor works brilliantly. I just find it very annoying that the whole thing doesn't run completely smoothly, at least on the PC, because it unfortunately drags down the really good impression quite a bit.
Like a Dragon Gaiden: The Man Who Erased His Name

PER

CONS

Very varied, wonderfully lively soundtrack
The control is freely adjustable…
Varied levels
Classic rhythm challenge after unlocking the respective songs
Can be played online and offline both alone and with up to four players

After each attempt, you watch the speech bubbles again, some of which last several seconds
… in an unnecessarily complicated menu
Online play only possible with friends
PlayStation controller is being used incorrectly on the PC