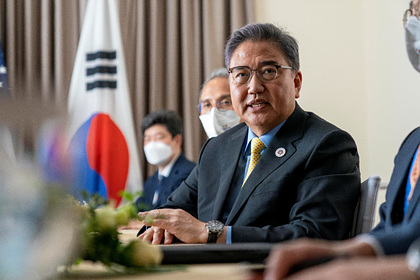 South Korean Foreign Minister Park Chin says he hopes for normalization of relations with Russia
South Korean Foreign Minister Pak Chin, during a meeting with his Russian counterpart Sergei Lavrov on the sidelines of the East Asia Summit (EAS) in Phnom Penh, said that he hoped for an early peace in Ukraine and normalization of relations with Moscow. This is reported RIA News.
According to him, tensions on the Korean Peninsula are rising due to North Korea's preparations for the seventh nuclear test. He also added that the situation in Ukraine has a negative impact on Russian-South Korean relations.
"I hope for a speedy normalization of relations between South Korea and the Russian Federation and the restoration of peace in Ukraine," he said.
The Foreign Minister also called for special attention so that the crisis does not harm South Korean companies and citizens of the country who live in Russia. According to him, the Ukrainian crisis caused disruptions in global supply chains and destabilization of the foreign exchange market.
Earlier it became known that regular ferry service between Russia and South Korea resumed. Passenger transportation on Eastern Dream ferry flights between the Korean port of Donghae and Vladivostok has not been carried out for 2.5 years due to the coronavirus pandemic.