The other day, a teaser trailer for the free content "Region Packs" that introduces 8 regions and over 2,500 types of assets was released for "Cities: Skylines II", and we are looking forward to further updates for this work, which continues to improve gradually. Meanwhile, Colossal Order has newly opened its official forum.updateWe have published a release roadmap for Ultimate Edition owners that summarizes the content scheduled to be implemented within 2024.
According to Colossal Order, adjustments have been made to the Expansion Pass content schedule due to the decision to prioritize improving the game's performance and implementing a mod editor.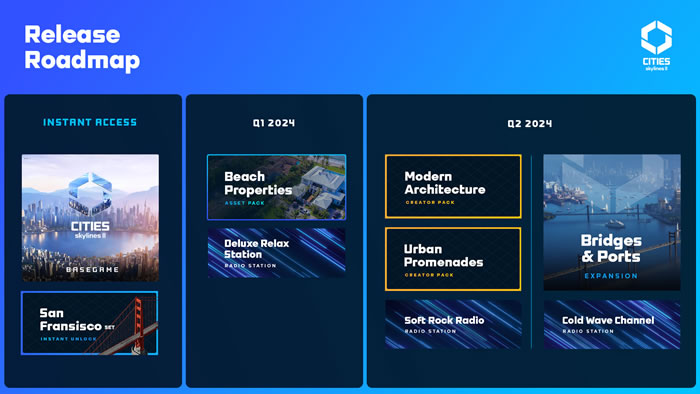 ■ "Cities: Skylines II" release roadmap

"Beach Properties Asset Pack" and "Deluxe Relax Radio Station": Scheduled to be released in Q1 2024.
"Content Creator Packs" and "Radio Station Soft Rock Radio": Scheduled to be released in Q2 2024.
"Expansion Pass": In addition to the instantly accessible San Francisco Set, it includes the Beach Properties Asset Pack (Q1 2024), two content creator packs (Q2 2024), and the Bridges & Ports Expansion (Q2 2024). In addition, three radio stations are included with each release (Q1/Q2 2024). Additionally, the "Expansion Pass" will be available for purchase separately when the first content is released, scheduled for Q1 2024.

■ Beach Properties Asset Pack

This asset pack includes everything you need to bring your waterfront to life. Beach Properties, a vast collection of assets that allow you to create luxurious coastal residential areas, opens up new possibilities for customizing your town.

■ 2 content creator packs (Urban Promenades/Modern Architecture)

With 2 packs each containing over 30 assets, your city will be even more unique. Created by two popular creators from the Cities: Skylines community, this pack is a great showcase of the talent and skill of the community modders.

■ Bridges & Ports Expansion

The new expansion set "Bridges & Ports" brings even more vibrancy to the coast! With this new set, you can create a vibrant harbor for your city and add beautiful new decorations like drawbridges and lighthouses. Expand your waterfront landscape and connect cities in fun new ways with over 100 new assets and a newly added maritime industry.

■ 3 types of radio stations (Deluxe Relax Station/Soft Rock Radio/Cold Wave Channel)

Let's create the atmosphere of the city with BGM! Each radio pack includes a new host's talk and 60 minutes of music, giving you a fresh new way to enjoy city building. Radio stations will be included with each content release.