With the release of iOS 17, iCloud Keychain has received a significant improvement. Now the user can seamlessly share their credentials with anyone. We'll help you learn how to share passwords on iPhone in iOS 17 using the new iCloud Keychain feature.
💚 ON TOPIC: "Check In" in iMessage on iOS, or how to track your friends' movements.
Apple is constantly working to expand family sharing capabilities. Now with iOS 17 (and iPadOS 17 and macOS Sonoma and later software), iCloud Keychain takes things to the next level with shared passwords that Apple calls Family Passwords. But you can share them with anyone, not just your relatives.
Here's how Apple itself describes this new feature:
"For easier and more secure sharing of passwords and access keys, users can share these secret combinations with a group of trusted contacts. Everyone in the group can add and edit passwords to keep them up to date. Because sharing is done via iCloud Keychain, it is fully encrypted."
💚 ON TOPIC: How to enable and configure the Standby feature in iOS (iPhone as a beautiful bedside clock).
How password sharing works on iPhone in iOS 17
Let us remind you that iOS 17 is currently in beta testing. But we've already talked about how you can install this update if you want to test out its new features, like shared passwords and more.
1. On an iPhone running iOS 17 (or newer software), open the "Settings"
2. Scroll down and tap "Passwords»
3. At the top of the page under the inscription "Share passwords with your Family» click «Get started"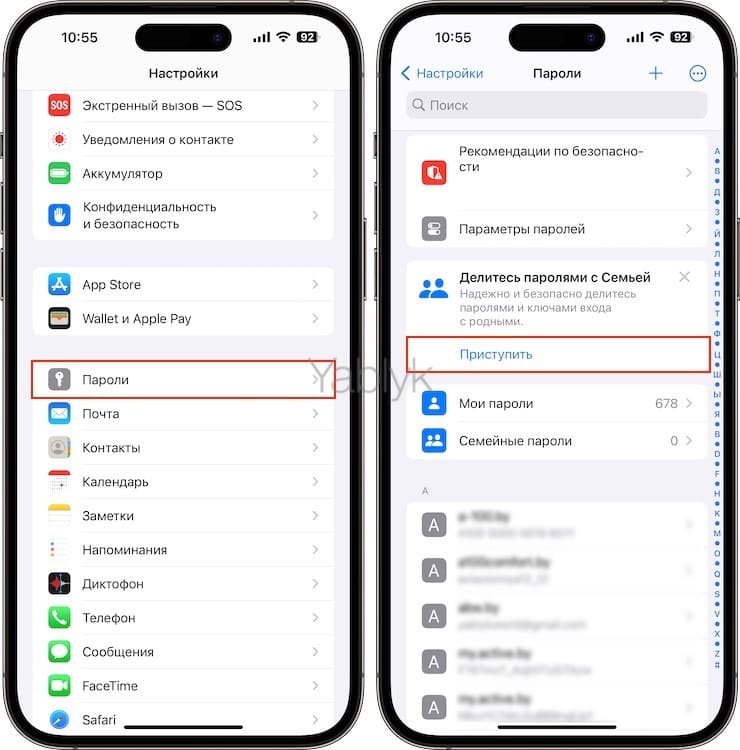 Additionally, to start using the Family Passwords feature, you can tap the icon+" at the top of the screen and select "New general group"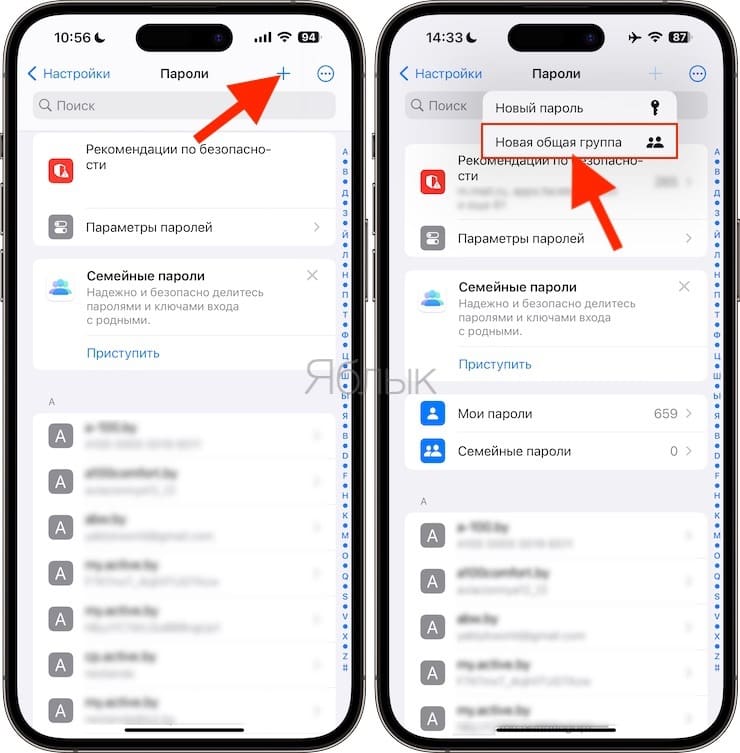 4. Click "Continue" on the description screen and press "+ Add participants"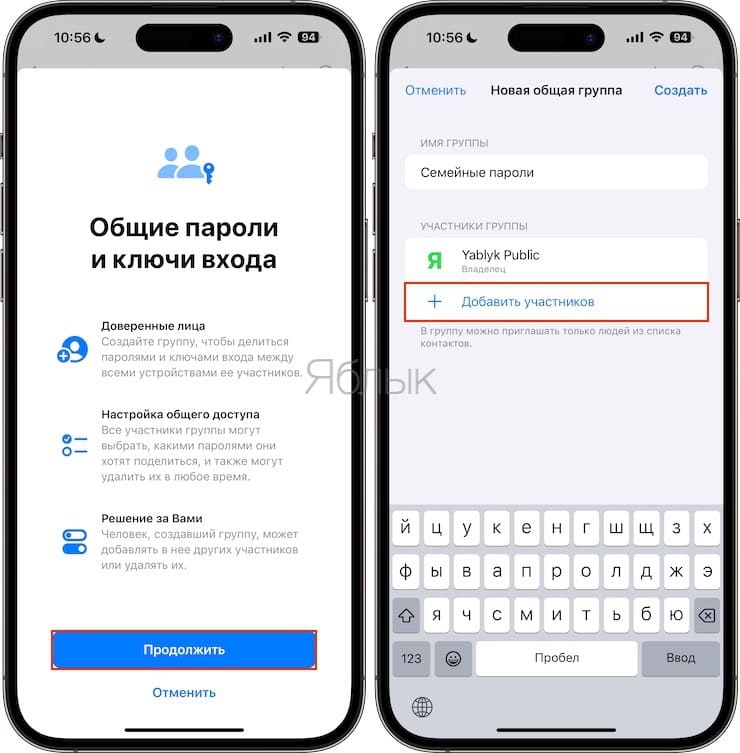 5. Add people to your group with a shared password (their iPhone must also have iOS 17 or later installed). Click "Create"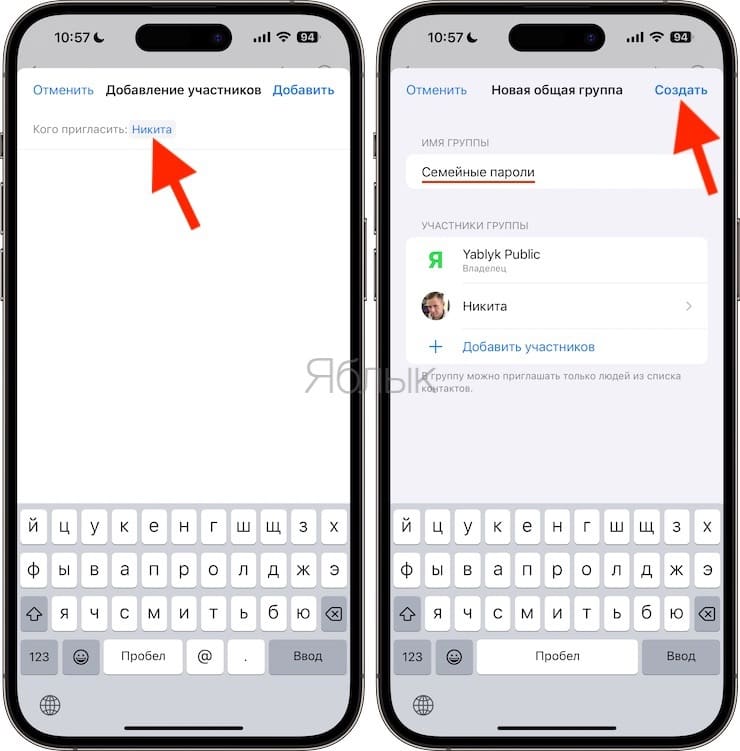 6. Now select the password (or passwords) you want to share.
7. Click "Move" in the upper right corner.
8. Now you can send a message to the person/people that you have shared the passwords with them.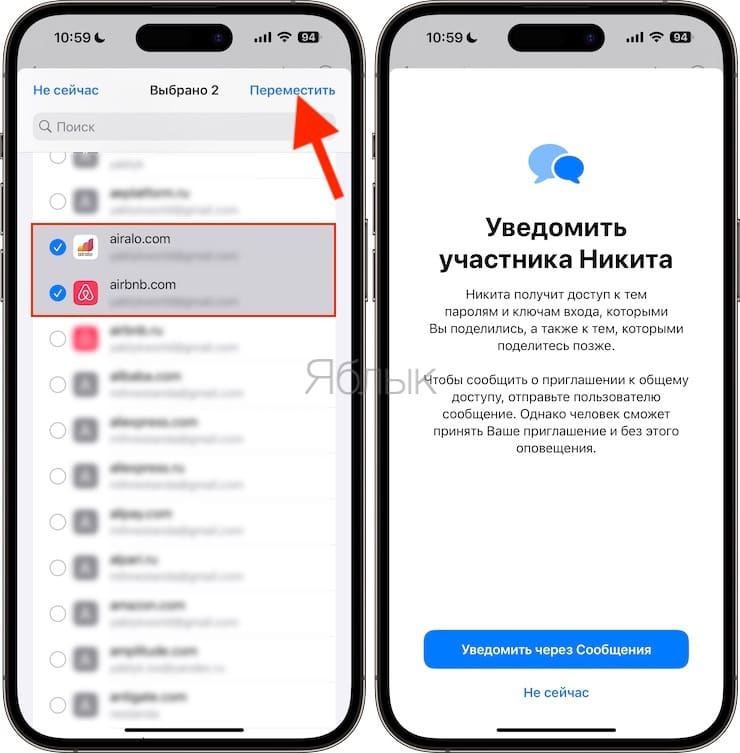 9. That's all the setup is – others who joined can also share these passwords if they want.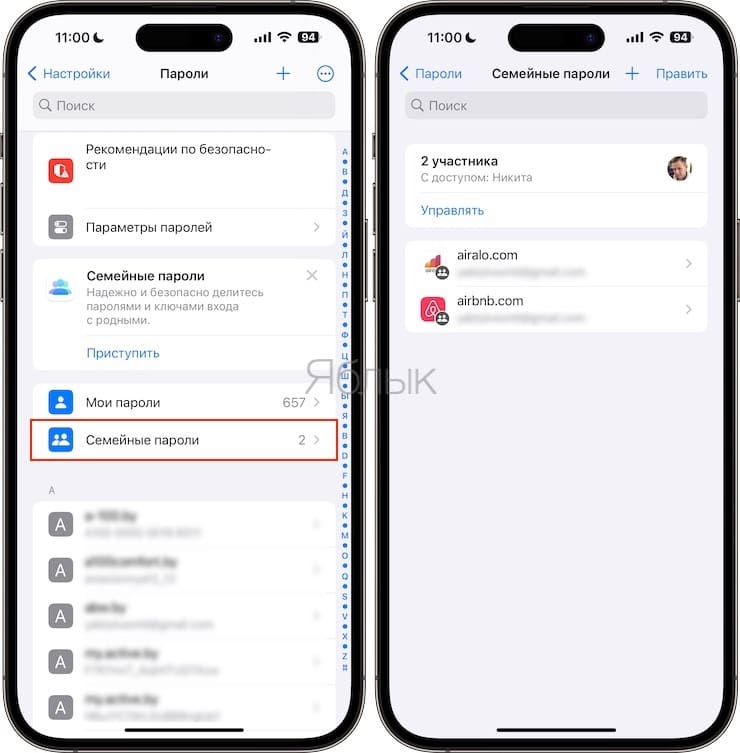 To manage a group (rename or delete a group, add or remove members), click "Manage"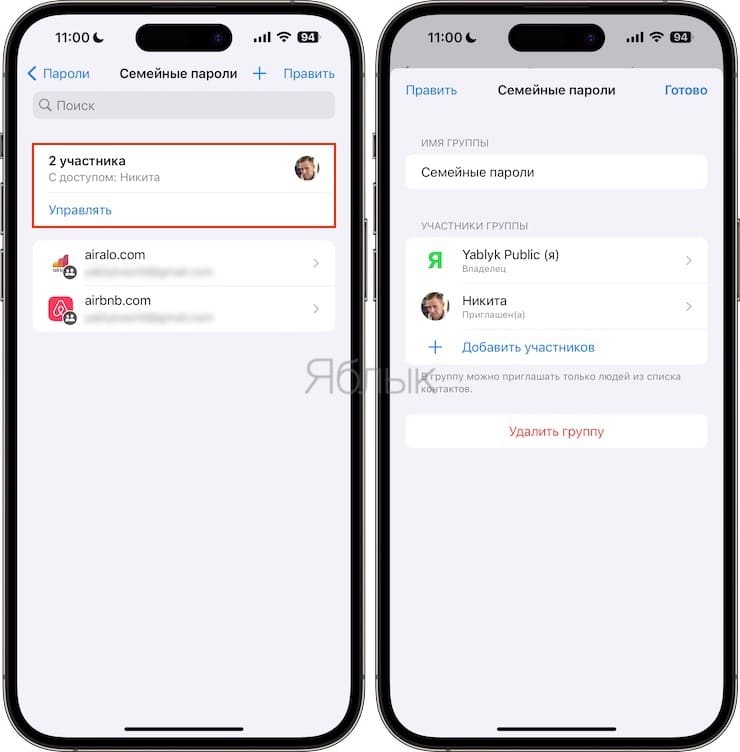 To manage your shared password, follow the path: Settings → Passwords → Family passwords and select the required password.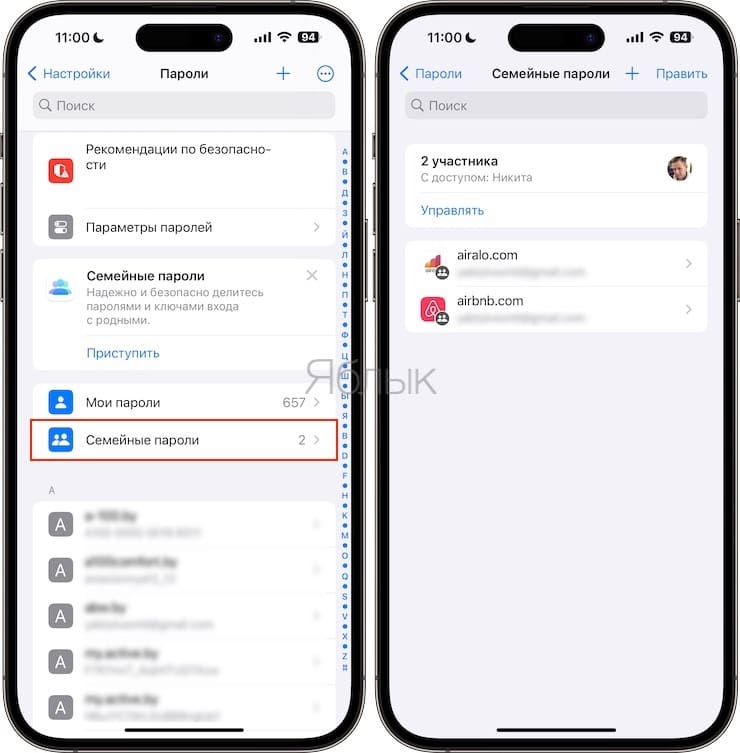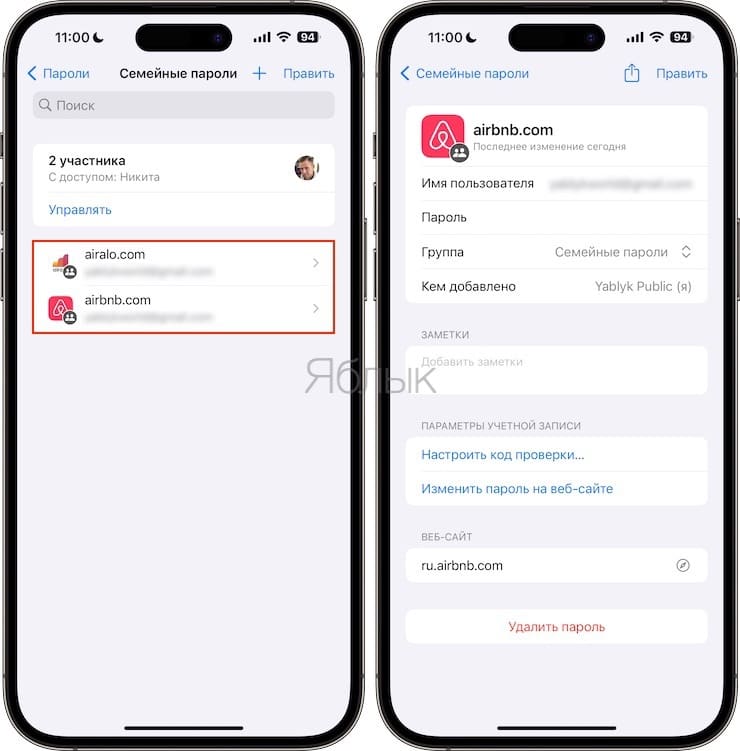 Select the drop-down list "Group" and in the pop-up menu select the required action (move the password to another group or My passwords)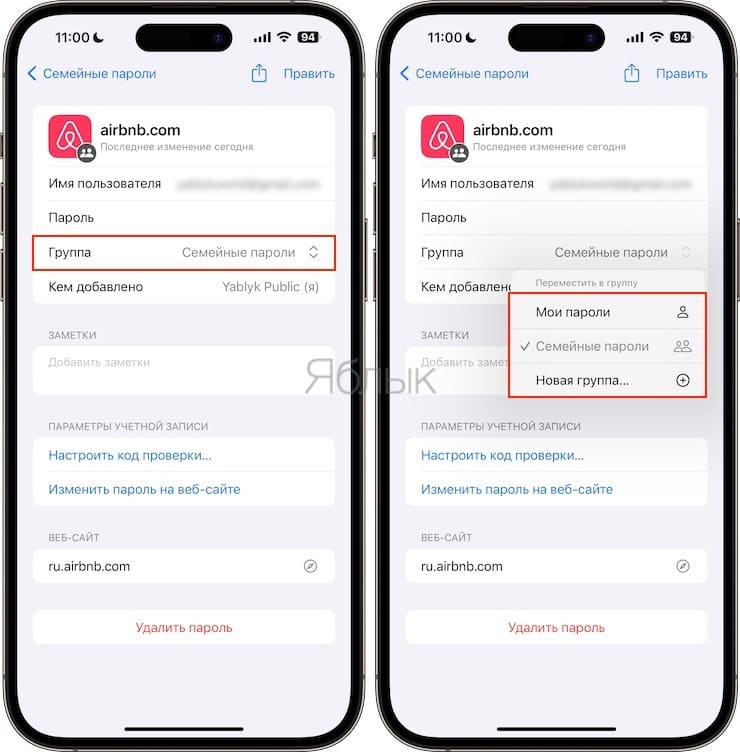 One great thing about this feature is that you can set up several general password groups, as many as you like, in fact.
Note: You can only select people for whom you have created a contact.
Another interesting part of this feature is its removal of shared passwords. They are moved to the folder "Recently Deleted", from where they will disappear only after 30 days. And, interestingly, they will be removed both from your own passwords and from the general list.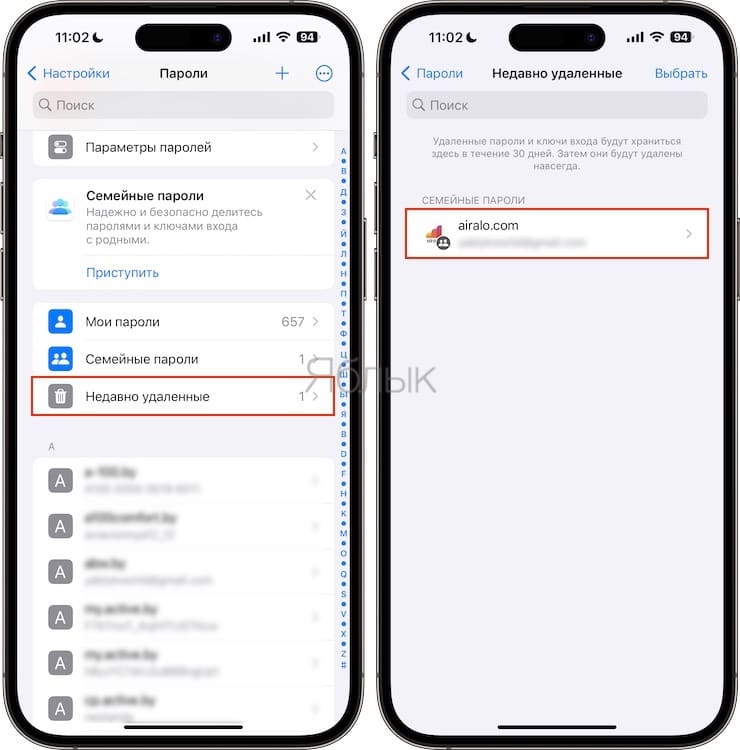 If you want to remove the shared password but keep it among your own, go to the "Recently Deleted", tap the password and select "Restore to group" or "Recover in My passwords", and then "Move to My Passwords"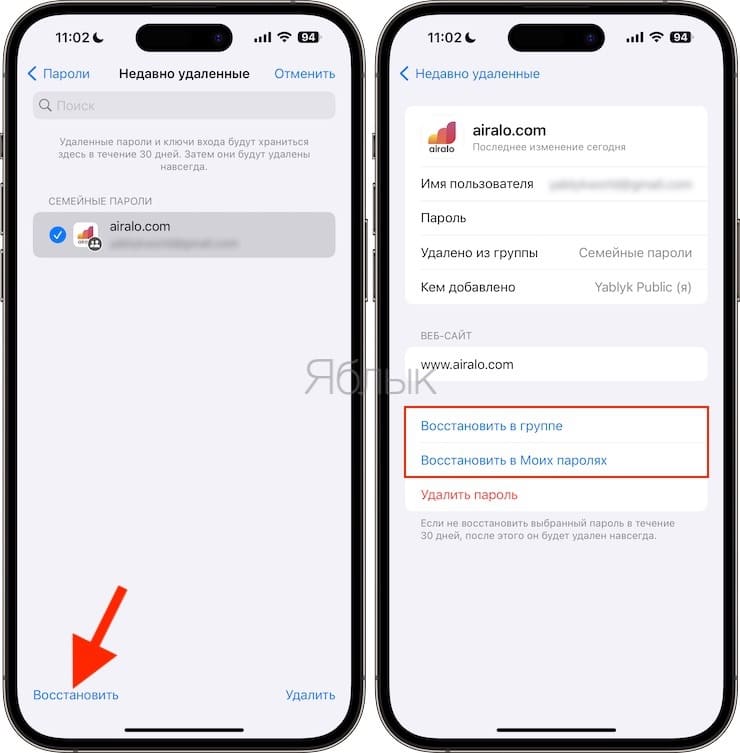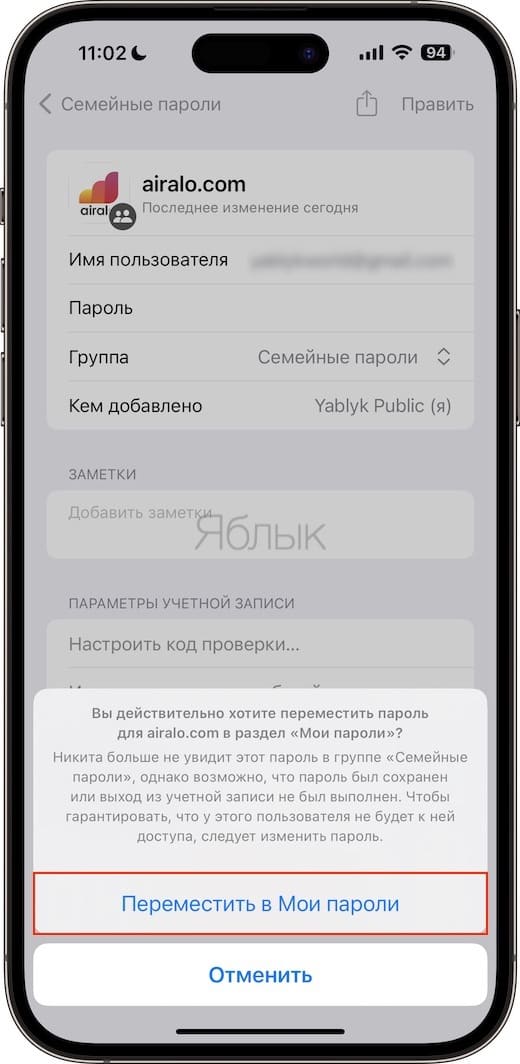 Shared passwords on Apple devices make iCloud Keychain more convenient than ever, and more competitive than paid password managers. What do you think about this new opportunity? Will you be sharing your passwords? Tell us about it in the comments!
🔥 See also: