The Russian Federation is losing a mass of dangerous weapons in Ukraine, which is documented by subsequent materials from Ukrainian troops. A video has appeared on the network that shows the explosion of a Russian vehicle filled with thermobaric ammunition.
The Ukrainian military destroys a Russian vehicle with thermobaric ammunition
The 80th Separate Assault Brigade of the Armed Forces of Ukraine published a recording showing the destruction of the TZM-T vehicle.
The powerful explosion of the vehicle hit draws attention – most likely the thermobaric (fuel-air) ammunition inside the vehicle exploded here.

Stugna-P system on a tripod (photo: Wikipedia)
The military used the Ukrainian Stugna-P anti-tank guided missile system (also known as the Skif) – the armament is great for destroying modern armored targets (also with reactive armor).
It is true that the Ukrainian armed forces have already used the system in recent years, but it gained wider significance only during the Russian invasion. The Stugna-P is also great for destroying traditional tanks. Some time ago, a video appeared on the network in which one operator destroyed four Russian T-72 tanks within three minutes.
Why did Ukrainian troops destroy the TZM-T vehicle?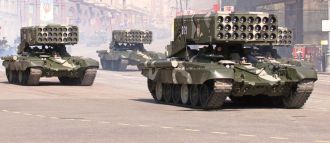 TOS-1 launchers during the victory parade in Moscow (photo: Wikipedia)
Why was destroying the target so important? The TZM-T is an armored tracked vehicle that is used to replenish rockets in TOS-1 launchers (thermobaric or incendiary). We are talking about a lethal weapon that is designed to destroy fortifications, bunkers and shelters, with the greatest havoc in cities and confined spaces. During the conflict in Ukraine, such weapons were often used against civilians.
Source: Wikipedia, Ukraine Weapons Tracker