Microids is known for obtaining the rights to various licenses which marked many players in the 80s/90s. Tintin, Asterix, The Smurfs… There's something to please quite a few people. Our friends were able to acquire a franchise adored by many Europeans, Goldorak, and will make the dream of certain fans come true by offering a production where action reigns supreme. During the Tokyo Game Show 2023we were able to get our hands on a tiny demo to give us a slight taste. Did we enjoy these few minutes? The answer is in the title.
It's flat, it's bland, it lacks pep in the image!
Visually, we have a very simplistic and summary rendering which in no way amuses the eyes. It's flat, it's bland, it lacks pep in the image! We have the feeling of watching an old PS2 game that has been smoothed out, no more, no less. The animations are stiff, and the light effects really aren't crazy. The trees on the ground do not fall under our feet, the rocks disappear without any shine after a blow, in short, nothing to excite… Moreover, the robot lacks presence, we cannot feel the "gigantic" side of the mechaand have this feeling of taking control of a simple character who hits opponents at all costs.
Additionally, bugs were present. As ? The camera which literally went out of the frame to end up in a texture, or the robot which trembled in a wall instead of having a fluid animation. The problems are not only with the graphics, but also with the gameplay. Indeed, when we had to jump on a small cliff, by pressing "advance" and "jump", Goldorak took a huge leap backwards. We pushed against one of the people at the stand to ask why we couldn't climb without getting upset, he didn't know what to answer…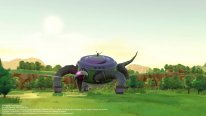 The handling is rather classic. It is possible to execute more or less devastating combos to quickly bring down an opponent. Unsurprisingly, the player can also launch legendary offensives to inflict maximum damage. The problem is that we are progressing in ultra-closed and narrow areas. So, we advance in a boring corridor and hit enemies without really enjoying it. To sum it all up in a few words: boring to death… A little positive all the same? The music is really excellent. We are treated to chants rearranged with notes known to the license, it's really pleasant to listen to.



In view of the technical problems encountered, we were contacted by a game manager to inform us that the title is still in development, and that it is a simple demo. But for a "simple" and above all small trial version, why not have refined this experience a little, especially in a Japanese video game lounge where lovers of giant machines hang around? Honestly, it doesn't make you want to go back. And we're not necessarily asking for a lot, but the technical foundations of an indie game in 2023 (problematic movement, camera frozen in a corridor, slightly more flexible animations, etc.) should be a minimum. We left this session laughing, but not happy…
You can pre-order Goldorak: Feast of Wolves at: