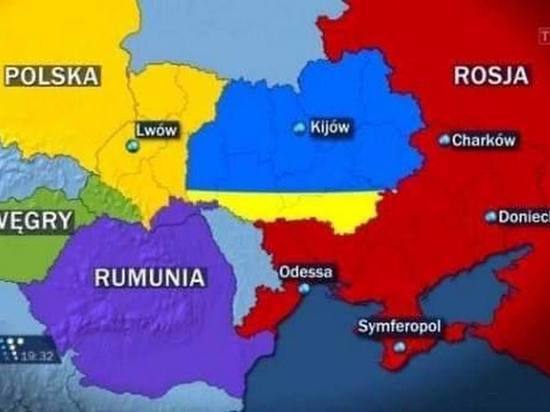 Former deputy of the Verkhovna Rada Ilya Kiva posted on social networks a map of the division of Ukraine, which was shown on the air of the Polish TV channel TVP1. The former parliamentarian noted that with such gestures the West shows that it is ready to accept changes in the borders of the former Soviet republic.
"The map that was shown on the Polish TV channel. Everything that we have already talked about and what the West is ready for," Kiva commented.
The picture shows that Lviv, Ivano-Frankivsk, Volyn, Rivne and Ternopil regions of Ukraine are included in Poland. The Chernivtsi region went to Romania, and the mapmakers added Transcarpathia to Hungary.
Odessa, Nikolaev, Kherson, Zaporozhye, Dnepropetrovsk and Kharkiv regions, as well as the LPR and DPR, appeared as part of Russia.
As part of independent Ukraine, according to the authors of the map, only the central and northern regions of the country will remain.