Every now and then, Microsoft forgets to mention new functions in the release notes. This is also the case in the release notes of KB5030310 for Windows 11 22H2. Even if the list of fixes is very long, there is no indication that some new functions from Windows 11 23H2 have already been activated.
We have already presented the most important changes to you here. Even though KB5030310 will certainly be revised again and then offered to everyone as a new optional update, I was curious and have already installed it. Phantom had also started digging and found out a few things.
Settings
Probably the most noticeable change (so far) is that Settings now opens "Start" rather than "System". Some have already dubbed it an MS advertisement. But I assume that Microsoft still has a lot planned here. For example, to integrate a kind of widget overview.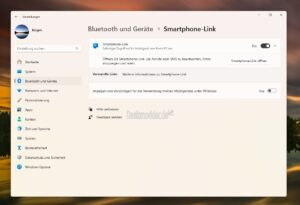 Another change that has already been implemented is that smartphone link is now available under Bluetooth and devices. Access can be started directly from here without having to go to the start menu. This has just been integrated into the beta and has already been implemented. There will certainly be more functions here later.
Unzip 7-Zip, RAR, TAR and more via the context menu
We already reported in May that Microsoft wanted to add RAR, 7-ZIP, gz, TAR and other file formats in addition to the usual ZIP support. And that is exactly what has now been implemented. So if you want to quickly unzip a 7-ZIP file, you no longer have to rely on external software.
Packing files in 7-ZIP or other formats will follow later. Until now, only the ZIP format is available under Windows 11. Of course, other programs such as 7-Zip, NanaZip or WinRar are more extensive. But not everyone needs these additional features.
Several apps can be uninstalled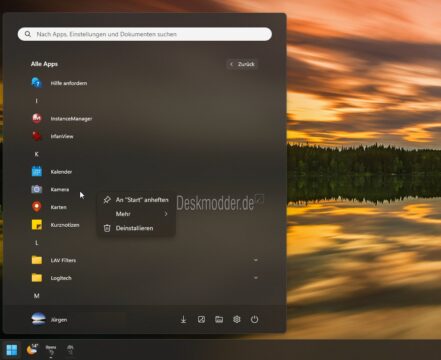 It was also only added in the last beta that the camera app, Cortana, photos app and contacts app can be easily uninstalled. This function has already been integrated into the optional update.
Until now, it was a bit complicated to remove this chatterbox, especially with Cortana. But with Windows 11 23H2, Windows Copilot takes over anyway and Cortana is retired.
All changes that affect the file explorer and the taskbar have not yet been implemented. These are already integrated into Windows 11 22H2, but they have to be activated first. It is remarkable that Microsoft has already activated the functions mentioned above. But that's what a test is for.
Windows 11 tutorials and help