The announcement of Mortal Kombat 1 was enough to raise questions. Indeed, behind this title is actually the developers' desire to reboot the history and lore of their saga. A daring bet for a series which is now a little over thirty years old. A longevity that has materialized over the years through original game modes and an ever richer and more varied roster. Mortal Kombat has always held a special place in the hearts of kombat game fans. The question is therefore whether today, this new episode is capable of still captivating the crowds, while the competition is more and more present. Answer in our test.
Mortal Kombat 1 is divided into four main game modes. Story, Invasion, Towers and obviously the multiplayer side which allows players from all over the world to compete. For the latter, we find ourselves facing a very classic system where we fight one after another in order to move up in rank. Obviously, the more your victories pile up, the more you will have the opportunity to rub shoulders with the elite of the game. This principle is obviously endless, just like the training mode. The latter is highly interesting since it allows you to take control of all the characters in the game. We can then discover all the sequences, combos and special techniques that can be used. Clearly, to master all of a character's abilities, it takes time. Mortal Kombat 1 is a game that can be picked up quickly (proof of this can be found in our course for this test), but to reach a high level, you will have to work hard. This is all the more true sincewith more than twenty characters, we are spoiled for choice.
Let's talk a little about the game's casting. Between the characters from the Overworld, those from the Earth Kingdom and the game's antagonists (some of whom come from the Nether), there's plenty to do. Add to that the support characters (we'll explain that to you a little later), and you'll see that there are a multitude of choices and game possibilities. Beyond their appearance and their history, each of the fighters has its range of movements and techniques. There is obviously a framework that is respected and which includes classic movements, special attacks and fatality / brutality, but putting them into practice is not necessarily done in the same way. Therefore, we can only advise you to focus on one or two characters to start to make it easier for you to get started.
For fans of the game or fans of fighting games, on the other hand, the operation is relatively classic. The basic combos are done using a sequence of keys in a quick period of time, while the techniques often require using the directional cross (highly recommended, if not essential) as well as one or the other key. If the first minutes can be disconcerting, you quickly manage to take control of your fighter and create nice sequences. This is also one of the interests of Story mode on which we are going to speak a little.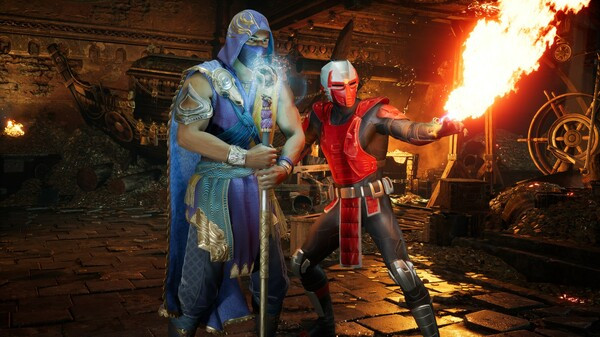 It's always hard to imagine what a story mode might look like in a fighting game. We imagine a series of tasteless confrontations which will end with the inevitable boss, all lasting only a few hours and serving as an excuse to fight. For Mortal Kombat 1, the developers saw things slightly differently, and above all in a more ambitious way. Indeed, the Story mode of this episode bears its name particularly well. For a few hours (between 5 and 10 to complete it), you simply follow a film. The cutscenes, very well made, follow one another and only interrupt to let us fight. The transition between the moment of play and the moment where we are spectators is natural and fits perfectly into the dynamic. It's beautiful, fluid (although during certain cutscenes, it coughs slightly) and above all it's convincing. All exchanges between the characters are fully dubbed into French, and very beautifully.
The story told is interesting and captivating enough to make us want to complete the adventure. So yes, this is not a Christopher Nolan film. However, the scenario created for the game benefits from a coherent, charismatic and intelligent casting, while distilling from time to time a rather welcome little surprise. It's a great success and a great introduction to the game and its lore. Moreover, without revealing too much content, the story begins with Liu Kang who, by taking power over the Hourglass, modeled the universe in order to avoid all corruption and all war. Unfortunately, we learn from the first minutes that an entity does not hear it that way. The latter will therefore allow certain characters to foment a coup d'état, while others will attempt to take control of the Kingdoms. It's simple, but effective. We didn't ask for more…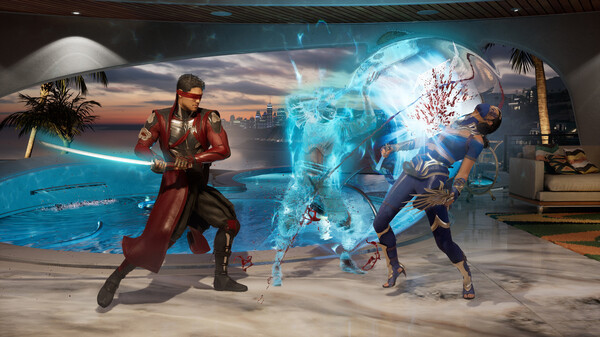 Once the story is complete and your training is complete, it's now time to turn your attention to Mortal Kombat 1's new mode, Invasion. To put it simply, our character is on a game board and he moves from square to square. On each of them, he will then be able to carry out an action: confront an opponent, buy an item, fight a boss… At times, a branch will be available, leaving us the choice of the direction to take. This kind of dilemma can lead us to discover additional objects or chests. These sometimes contain cosmetic items such as accessories or skins for our characters, while others will offer us different usable items. So, beyond a succession of movements and fights (basically, that's the basic idea), you will have the opportunity to gain experience and customize your characters using objects. And if there is experience, it is because there is an increase in level. The interest? Once you have passed the threshold, you obtain points to spend in order to improve the characteristics of your character.
This RPG aspect that we didn't necessarily expect is welcome and it is also reflected in the objects that you can equip. These can be improved at the blacksmith thanks to a crafting system. Your progress in Invasion is widely rewarded (by parts to use in the store or to unlock boxes that do not bear the name, by skins, accessories, different brutalities, fatalities, etc.). This therefore gives real interest to the mode, which is all the more true as the game works on the basis of seasons. We can therefore imagine the developers filling their title with content in the months to come… Although very nice, we will still note that Invasion mode risks indeed suffering from a feeling of repetitiveness. It's up to you to decide whether this will be a problem for you or not.
A quick word on the game's economic model. It is obviously possible to checkout and use real money to unlock different cosmetic items. Despite this, progression in Mortal Kombat 1 will offer you rewards and money that you can use, without spending a single euro. You obviously have to be patient (and probably make choices), but if you want to customize your characters, it is possible to do so without hurting your savings account. We also specify that your game account has a level (which increases with each of your victories), and that each character – main or support – also has its own progress. The latter also takes the form of a "pass" which unlocks warrior-specific rewards that you use. Frankly, for a completionist, there is really plenty to do…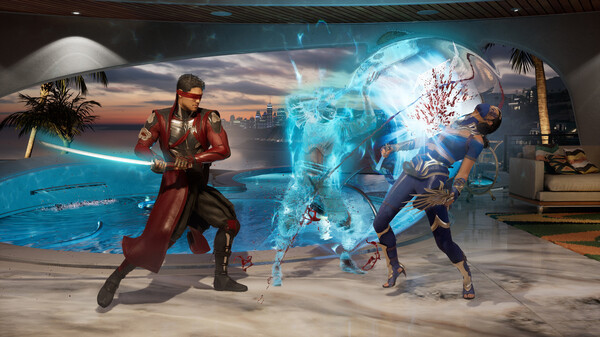 In terms of gameplay, Mortal Kombat 1 takes the basics of the previous episode (and its ancestors too, that said by the way). We can always protect ourselves in two different ways and it is possible to grab our opponents when they constantly parry. Attack movements are always divided into three types: low, medium and high. The sequences require mastery of the character and, as said above, the game is as permissive for newcomers as it is intransigent for those who want to become efficient. Mortal Kombat 1 also retains the "Fatal Blow" system which can be used in case of danger. This attack – which can be parried and avoided – offers the opportunity to inflict a large amount of damage on our opponent, which offers a significant opportunity to turn the fight in their favor.
Obviously, once the confrontation is over, brutality and fatality can be unleashed. On this side, Mortal Kombat 1 obviously does not have finesse since the executions are as tasty as they are disgusting. Finally, a small new feature of the game, it is possible to involve the character Kaméo during fights by pressing the right trigger. Its arrival can be countered with a simple blow by the opponent. It's up to you to take advantage of its help at the appropriate time, at the risk of losing the advantage of using it.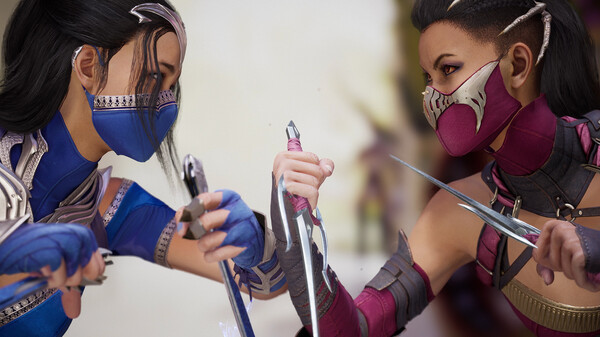 Let's finish this test with the technical part of the title. Mortal Kombat 1 is the series' first real foray on the latest generation consoles (we're skipping the 11th update). With more than 140 gigabytes, the game is greedy and we quickly understand why. Indeed, the story mode is visually stunning. THE environments – like the characters – are strikingly realistic and the line between film and game thins considerably. Same observation for the modeling of the characters as well as their animations, but also for the different arenas which benefit from a background rich in details. In terms of sound, we will especially remember the French dubbing which is very good, while the music simply does the job.
Mortal Kombat 1 is a bold bet from the developers, but above all it is a successful bet. The game is magnificent, the story is well done and the Invasion mode is interesting. We appreciate the few gameplay additions as well as the extensive customization and the abundant rewards that can be collected for free. We simply hope that the game will benefit from optimal follow-up in the months to come and that this will allow the experience to be sufficiently renewed, particularly with regard to Invasion mode.
+
5 star cast;
Quality French dubbing;
Visually stunning;
Interesting and well-executed story;
Nervous, accessible and technical gameplay;
Successful Invasion Mode;
Relevant Kaméo.
–
Framerate decreased during certain cutscenes;
Invasion mode redundant after a while;
Reboot ambitious and wise at the same time.