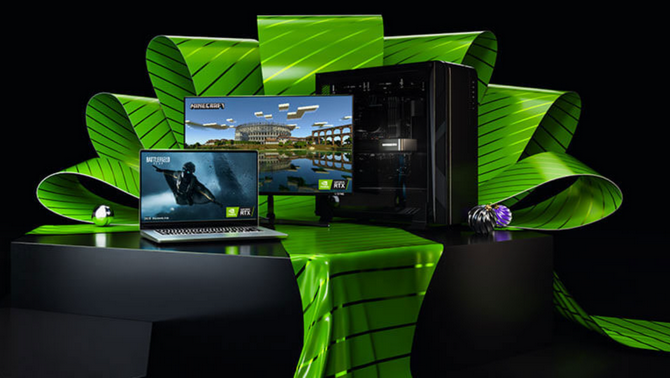 Computers are perfect devices for digital fun and irreplaceable work tools, and both tasks can be successfully combined thanks to NVIDIA technologies. Regardless of what design you prefer, be it a desktop or a laptop, the NVIDIA RTX and NVIDIA Studio platforms provide the best solutions in their categories. PC games and applications run faster and look even better – a suite of modern techniques provides realistic ray traced graphics and unparalleled performance thanks to advanced AI features such as NVIDIA DLSS and NVIDIA Broadcast. On the other hand, NVIDIA Studio provides a turbo boost for your projects that you can prepare faster on laptops.
GIFTS THAT WILL LOVE YOUR GAMES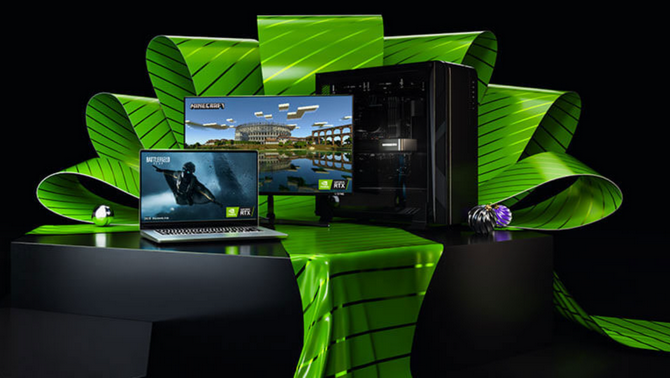 From the platform GeForce RTX dedicated to gamers, which includes ray tracing, DLSS and Reflex technologies, is already used by over 150 computer games. However, the next premieres are fast approaching. Ray tracing and DLSS are available on NVIDIA GeForce RTX graphics cards, whether we're talking about ready-made computers stationary (e.g .: ACTIN R5) if gaming laptops (e.g.: ASUS TUF Gaming F17 FX706HCB). NVIDIA graphics chips deliver the ultimate in performance and the most spectacular visual experiences that take realism to a whole new level. GeForce RTX is also powered by the fastest laptops in the world, which thanks to the Max-Q technology are light and quiet, combining gaming properties with an elegant design. A wide selection of models can be found in the offer of the Media Expert store.
NVIDIA RAY TRACING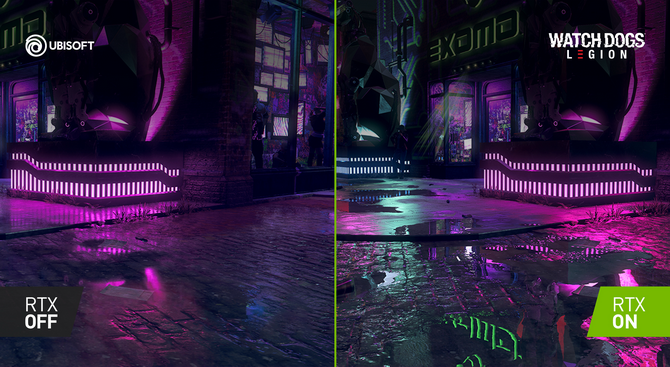 Cyberpunk 2077 PC – Ray tracing and DLSS graphics card performance test. What do you need to play ultra?
Real-time ray tracing is a long-awaited graphics revolution, now available in dozens of PC games thanks to the NVIDIA RTX family of chipsets. The effects of enabling ray tracing are very different, depending on the implementation level, but they provide an incomparably better visual experience than classic rasterization. It is worth checking out Metro Exodus: Enhanced Edition for comparison. Advanced reflections, ambient occlusion, shading or reflections generated by ray tracing allow you to create photorealistic three-dimensional scenes, even taking into account a simplified model of interaction with the environment. GeForce RTX graphics chips have special units to speed up such calculations, which opens up completely new possibilities for game developers who use such tools more and more. Because computers and laptops with NVIDIA RTX systems constitute the most advanced platform for players.
Performance benchmarks for games that support ray tracing: Battlefield 2042, Call of Duty: Black Ops Cold War, Cyberpunk 2077, DOOM: Eternal, Metro Exodus, Watch Dogs: Legion, Minecraft RTX, Wolfenstein: Youngblood, Deliver Us The Moon, The Medium, Quake II RTX
NVIDIA DLSS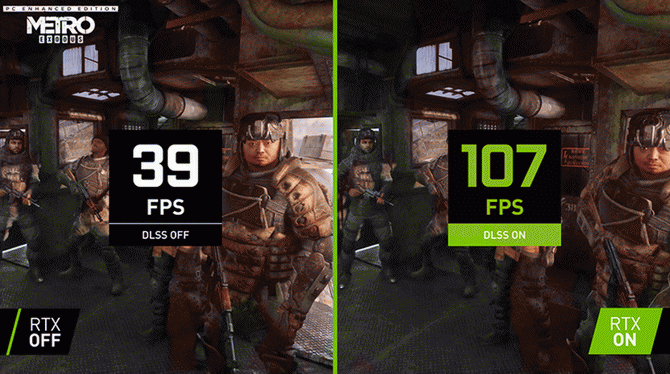 https://www.purepc.pl/test-wydajnosci-karty-graficznej-nvidia-geforce-rtx-3080-w-rozdzielczosci-4k-z-wlaczonym-ray-tracingiem-i-dlss-2-0
NVIDIA DLSS (Deep Learning Super-Sampling) is the most advanced and effective image scaling available on the market, increasing the frame rate. NVIDIA DLSS uses Tensor computing units found only in GeForce RTX graphics chips, which are specialized deep learning cores (hence Deep Learning in the name) using a neural network that analyzes tens of thousands of high-resolution images on an NVIDIA supercomputer. The end result is a significant increase in performance with a slight, sometimes even imperceptible reduction in image quality, which of course depends on the NVIDIA DLSS mode we choose. It doesn't matter if you use desktop or laptop computerif GeForce RTX is in it, you can use the potential of NVIDIA DLSS. If you want to learn more about the above technology, check out THIS article.
Performance benchmarks for games that support NVIDIA DLSS: Red Dead Redemption 2, Call of Duty: Vanguard, Death Streanding, Chernobylite, Marvel's Avengers, Mechwarrior 5
NVIDIA REFLEX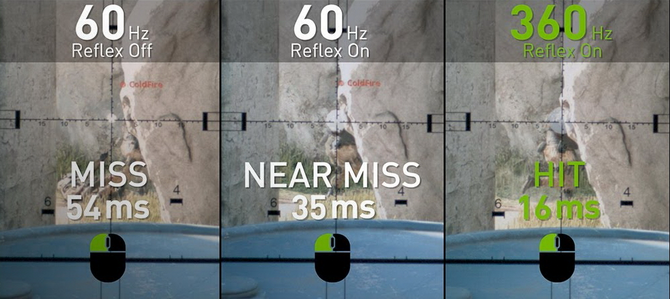 NVIDIA Reflex performance test on NVIDIA GeForce RTX 3080 and RTX 3070 graphics cards and a 360 Hz monitor
What is NVIDIA Reflex? The technique available on GeForce graphics cards primarily reduces delays on the operating system, processor, rendering and command queuing side. NVIDIA's solution eliminates the prerendering of frames, but it is closely connected with the engine of a specific computer game, because Reflex is available in selected titles. The function is compatible with all monitors and graphics cards from the GeForce GTX 900 generation. What does it give in practice? Lower delays mean greater precision and faster reaction time, which can be important during dynamic online skirmishes. Desktops and laptops using the NVIDIA platform are prepared for anything. You can learn more about NVIDIA Reflex technology by clicking on THIS article.
Performance benchmarks for games that support NVIDIA Refelx: Battlefield 2042, APEX: Legends, Fortnite, Valorant, Call of Duty: Warzone, Call pf Duty Black Ops: Cold War
NVIDIA IMAGE SCALING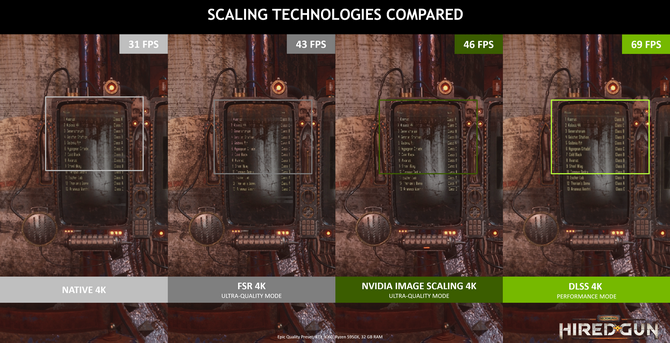 NVIDIA Image Scaling (NIS) is a simple tool designed for owners of GeForce graphics cards that do not support DLSS technology in hardware, requiring additional computing units. Thanks to this solution, it is possible to obtain additional efficiency on laptops and computers equipped with GeForce GTX systems. NVIDIA Image Scaling uses sharpening algorithms to improve overall image quality, so you can just get FPS increases in virtually any game.
NVIDIA STUDIO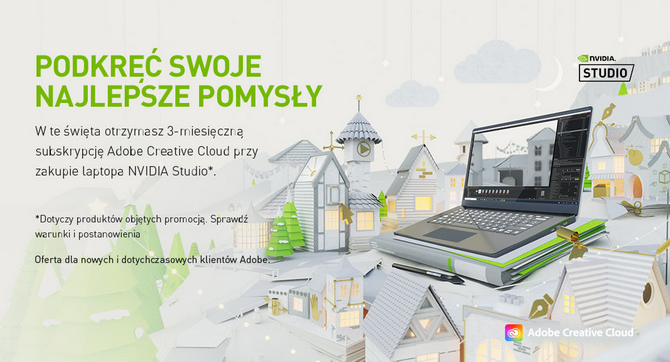 NVIDIA Studio – we check the criteria and performance on the example of GIGABYTE AERO 17 HDR with GeForce RTX 3080 Laptop GPU
NVIDIA has also prepared special solutions for creators. Whether you're rendering, editing video even in 8K, doing projects, or creating for fun, you can do it more efficiently and faster. New users can now get a free 3-month subscription to Adobe Creative Cloud at promotions in Media Expert stores. The NVIDIA Studio platform combines GeForce RTX or Quadro RTX graphics cards, software containing specialized SDK packages and dedicated drivers. As part of the platform, rigorous tests are carried out, taking into account the most important applications for creative work. In addition, you can quickly switch between the Game Ready and Studio versions in the GeForce Experience application, depending on what we will use our laptop for. Learn more about the NVIDIA Studio platform itself and the current promotion HERE.
NVIDIA BROADCAST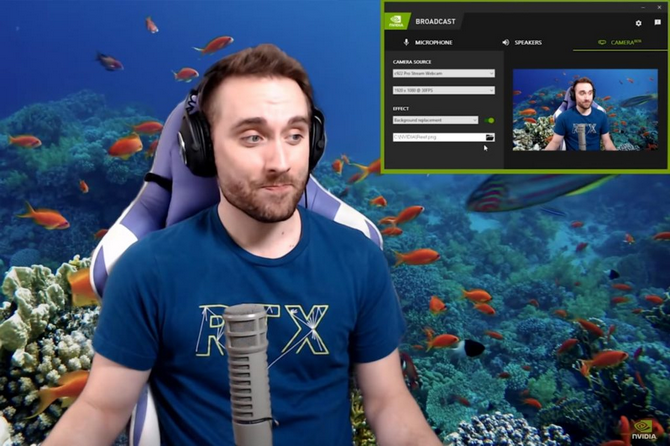 app NVIDIA Broadcast is an offer aimed at web developers, especially streamers and videoconferencing users, as it transforms any broadcast location into a home studio. First of all, we can cut out backgrounds, apply any foundation and use additional effects, e.g. blur. It also allows you to reduce the costs of preparing a professional recording place requiring, among others green screen or external lighting. NVIDIA Broadcast It also introduces dynamic tracking of camera movements, automatic image adjustment and reduction of microphone and surrounding noise, e.g. writing, what the AI ​​is used for. However, this requires an NVIDIA GeForce RTX 2060 or higher graphics card.
SEE PROMOTIONAL PRODUCTS
Source: NVIDIA
.