SEGA's rhythm game is back in a modern version full of cult melodies to become a maracas expert.
In 1999, the teams behind SEGA's blue hedgehog unveiled an arcade title that was unexpected to say the least: a certain Amigo's Samba, playable with a pair of maracas. These funny controllers aim to transcribe the sensations of the instrument in an innovative rhythm game driven by motion gaming. The title will then be adapted for the Dreamcast in 2000, bringing the originality of this gameplay to the comfort of the living room. Unsurprisingly, the title will make a return on Wii, the true queen platform for movement gaming. Since this 2007 reissue, SEGA's musical mascot has been very discreet, with the exception of a few appearances in racing spin-offs and other sports.
It was in February 2023 that Nintendo and SEGA created a surprise by unveiling a sequel to this franchise that we were expecting. Samba de Amigo: Party Central leaves behind his Brazilian inspirations for DJ-style decors, going hand in hand with his new modern playlist. Visually inspired by JustDance and its other competitors, this new rhythm game from SEGA finds the perfect balance between its arcade heritage and the new standards of motion gaming. Young and old will enjoy dancing to the sounds of today and the past.
Easy to learn, difficult to master
Halfway between a dance game and a classic rhythm game, the gameplay of Samba by Amigo Party Central demands a lot of rigor from its players. Approximately reproducing the movements of a model is not enough to score points : you need perfect mastery of maracas. During his first game, the player discovers a hexagonal interface with circles at each end. Notes move to the rhythm of the music to join these circles, which mark the very moment when the player must shake his instrument. You should then direct your maracas upwards, downwards or to the sides.
These are the beginnings which will give even beginners of the genre confidence. Amigo's Samba takes the player by the hand during his introduction before letting him get his bearings. Once the tutorial is completed, it is possible to access a multitude of modes and songs. The smart guys taken aback by the simplicity of their first part will certainly go and test their talents on their favorite songs. Know that we played smart and that we were surprised to say the least. Without even selecting the highest difficulties, the songs require dexterity and movements worthy of the most demanding Japanese rhythm games. For connoisseurs: imagine Taiko no Tatsujin with 4 additional movements…
The multigenerational playlist
To make the return of Samba de Amigo a significant event, SEGA did not hesitate to secure the rights to a concrete playlist. By setting its sights on cult songs from the 2000s and today, the game guarantees to satisfy connoisseurs of the license and newcomers alike. Some titles from the original Samba de Amigo such as "The Macarena" Or "The Cup of Life" by Ricky Martin sneak in between the other more modern sounds. This new generation version of the title is also accompanied by a few pieces taken from the SEGA repertoire, such as "Escape From the City" of Sonic Adventure 2 or "Fist Bump" of Sonic Forces (the hedgehog is truly in the spotlight).
As for the more current selection, players will be delighted to find a slew of renowned artists. It is then possible to shake the joy-con maracas to the rhythm of "Break Free" by Ariana Grande, "I Really Like You" by Carly Rae Jepsen, "I Love It" by Icona Pop, "JustDance" by Lady Gaga or even "Plastic Hearts" by Miley Cyrus. Just that. Samba by Amigo Party Central is enough to set the mood in a room, making it an excellent party game to discover in the evening. Playable with two players locally and up to 20 in the online World Party mode, this is a game that knows how to party.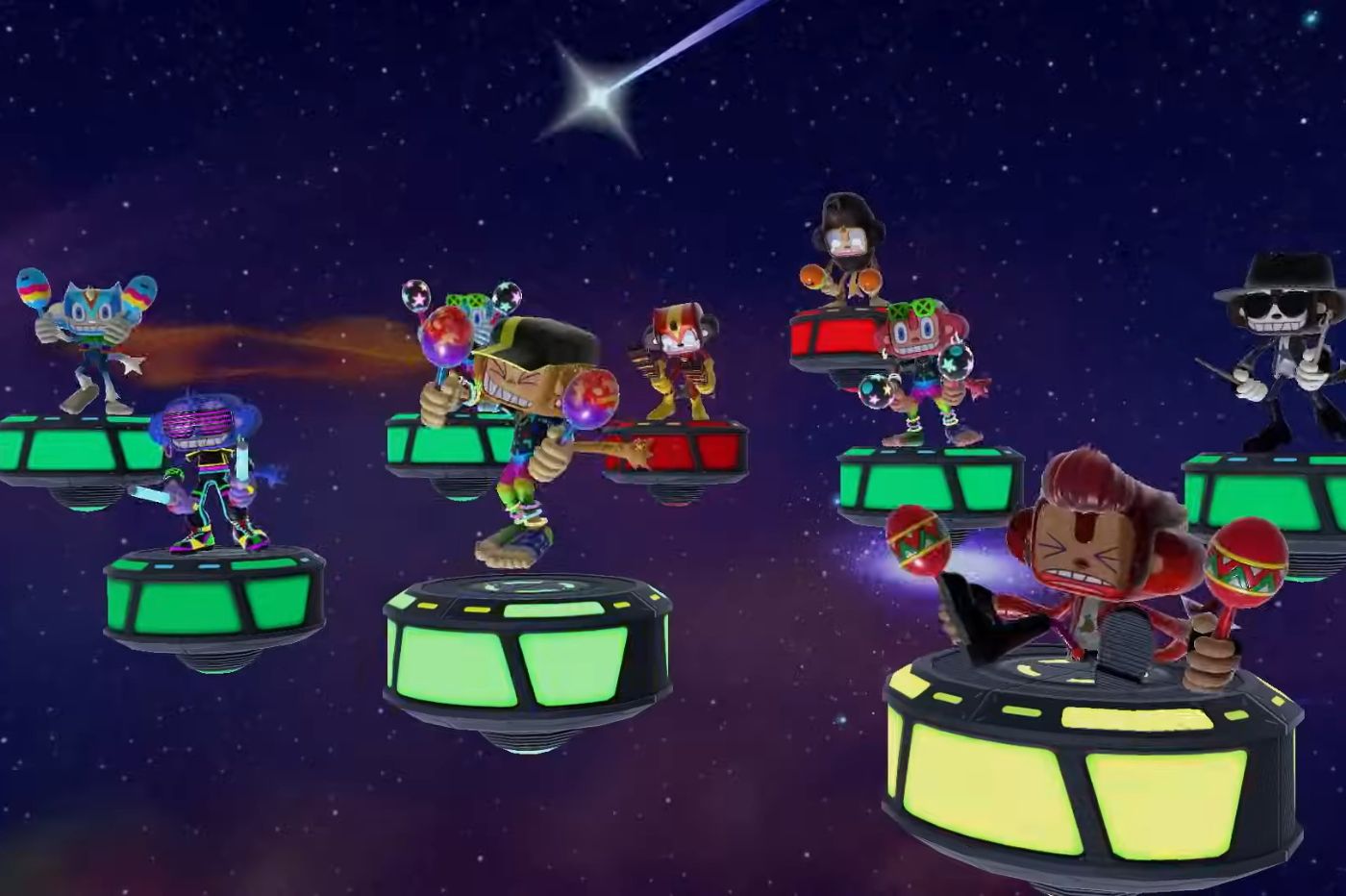 We spend more than we think
In addition to being accessible, fun and loaded with cult songs, Amigo's Samba don't neglect cardio! If the idea of ​​shaking maracas doesn't evoke intense physical effort, the title knows how to make us sweat a good bit. While the first difficulty levels already allow you to warm up properly, the following ones almost require new pairs of arms to touch all the notes. Tossing around in this way for more than a minute is a real test of endurance.
Also, the songs are punctuated numerous mini-games adding additional movements to our already incessant swaying. You then have to strike a pose, run on the spot or even shake the controllers as quickly as possible among many other unexpected gameplay sequences. Finally, a simple game of Samba from Amigo Party Central quickly turns into a workout with catchy tunes. Those who did not hang on to Ring Fit Adventure and got tired of JustDance will certainly find their new physical outlet in this game.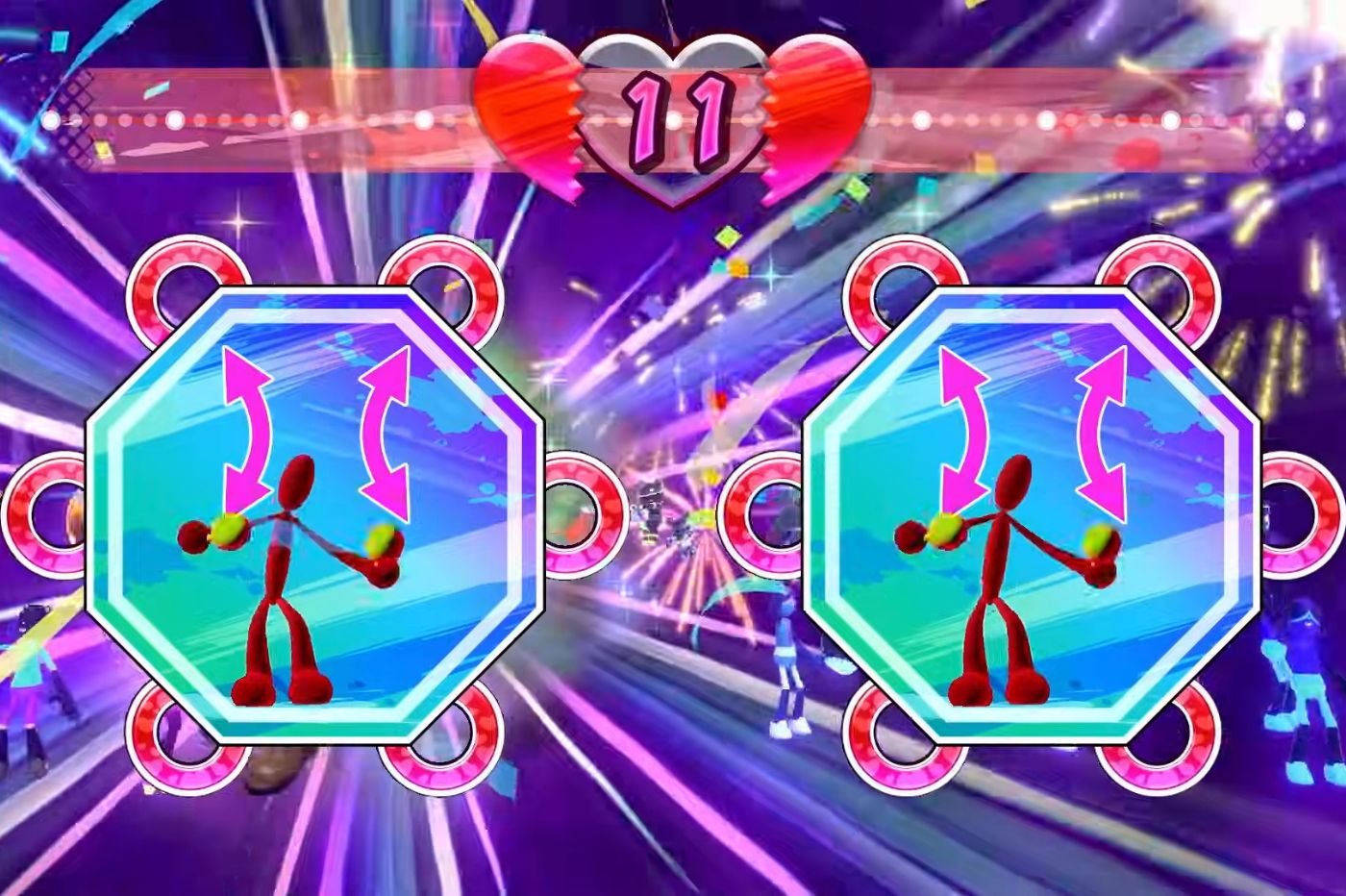 However, exhausted players wishing to continue their game will be able to benefit from a button mode removing the motion gaming dimension of the title to rely solely on pressing the buttons on the controller. Otherwise, Amigo's Samba is also back in mobile version on Apple Arcade with Samba de Amigo Party to Go and will soon be playable in VR on Meta Quest in Samba de Amigo Virtual Party scheduled for fall 2023.