For the most part successful implementation on Xbox and PlayStation with only slight weak points that do not reduce the quality of the game.
Jagged Alliance 3 was released in July and, as you can read in Alex's review of the PC version, proved to be a worthy sequel to the legendary series. Around half a year later, Jagged Alliance 3 would now like to launch on Xbox and PlayStation. Does that work?
In this test, since nothing has changed in terms of content compared to the PC version, we are only concerned with the quality of the technical implementation. If you haven't read anything about the game before, follow the link above to the PC test and read that first.
How does Jagged Alliance 3 run on Xbox and PlayStation 2?
On PlayStation 5 and Xbox Series X, Jagged Alliance 3 offers a Quality and a Performance mode. The former relies on a higher resolution and more details, but only runs at 30 fps. In performance mode you have a lower resolution, slightly fewer details and 60 fps. Whether that makes a big difference in a game like this, which relies on turn-based combat, remains to be seen. But you have the choice!
In purely qualitative terms, Haemimont Games has managed the technical implementation quite well, although the graphics are not at the same level as on the PC. The quality mode seems to be more or less at the middle PC level, the performance mode is below. It's always good to look at, but it's not the ultimate. And in performance mode there were a few artifacts here and there with water areas and trees.
In conjunction with slight frame drops in some interior areas, this shows that the implementation is not entirely clean in some aspects. None of this makes Jagged Alliance 3 unplayable, but I hope that Haemimont Games will make some adjustments.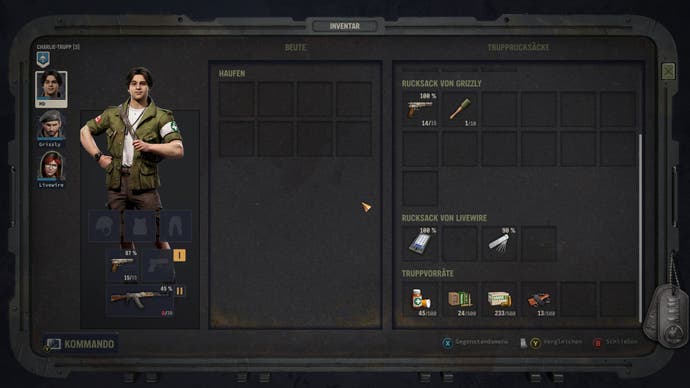 I'm also not entirely satisfied with the scaling of the user interface. Some of the icons and the like are okay, but I would have liked an option to further enlarge the texts. It's not completely unreadable, but from my couch, which is about 3.5 meters away from the television, I sometimes have to make an effort to read some things. This isn't a problem exclusive to Jagged Alliance 3, but even the highest possible setting isn't entirely satisfactory here.
I had few problems with the controls. It may take a little time until you have internalized all the commands and options, but once you do, it works well and reliably. The inventory is a bit too sluggish when scrolling, but the game doesn't have any major glitches when it comes to controls.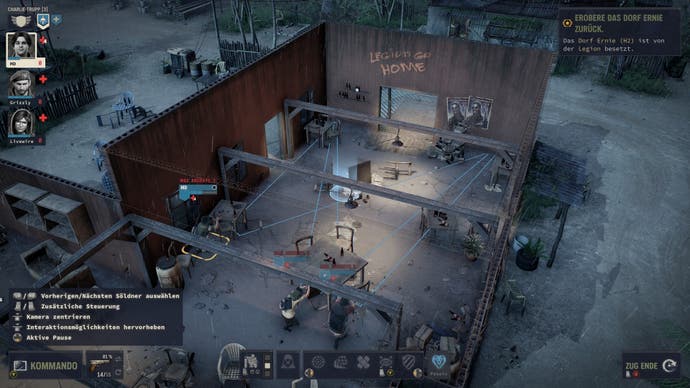 Jagged Alliance 3 – Conclusion
It's been a while since I last played a Jagged Alliance. Especially when it comes to the classics from way back. I was even more pleased that Jagged Alliance 3 turned out to be a good game. This continues on the consoles, where Haemimont Games delivers a mostly successful port that can keep you busy for many, many hours. There are minor problems, but they don't detract from the overall impression. Overall, I can only recommend Jagged Alliance 3 tactics fans on Xbox and PlayStation.
Jagged Alliance 3

PER

CONS

Motivating, percentage-free round-robin combat with many possibilities
Great integration of tactics and strategy levels
Beautifully dynamically simulated world
Great freedom of choice ensures high flexibility and replay value
Atmospheric often very strong
Mostly successful implementation on Xbox and PlayStation
Controller controls work well

Sometimes draconian penalties for things that are subject to the simulation ensure a lot of saving and loading
Stealth not completely intuitive
Interface doesn't feel fully developed yet
Not a good introduction to the game
The story is rather simple and some of the jokes fall flat
Still slight technical problems on the consoles
Texts could be even larger on consoles
You can play Jagged Alliance 3 at Amazon.dein the Xbox Store as well as in PlayStation Store buy.