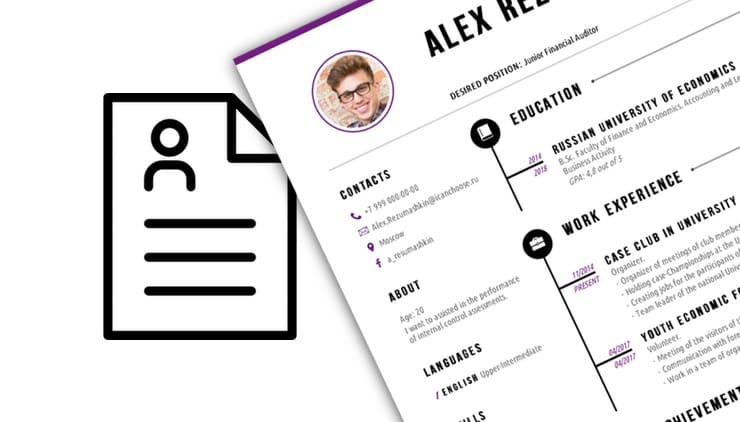 These days, you don't have to buy a classifieds ad or pluck phone numbers from poles to find a job, everyone has access to online exchanges, recruiting agencies, social networks with a professional bias, etc. To do this, you need to have only a kind of business card in the form of a well-written resume.
💚 BY TOPIC: Interview Mistakes: 10 Ways to Lose Your Job Before You Get It
At its core, a resume is an advertisement for a service that must be implemented in direct competition with other candidates for a particular position. It is on this business card that the recruiter, HR manager or company management will decide on the advisability of further interaction with the candidate, whether it be a call, a letter or an invitation for an interview.
Despite the obvious importance of a resume, many specialists treat its compilation as a bureaucratic routine, simply filling out a data questionnaire: full name, education, previous jobs, skills, contacts. Against the backdrop of thousands of similar profiles, it is quite easy to stand out by compiling a concise and relevant resume.
💚 BY TOPIC: Your correspondence in Telegram, WhatsApp or Viber is read: how to check it?
standard format
Many professionals (especially creative professions) prefer to create detailed resumes not on popular job search services, but to allocate separate sites or specific services for this. Thus, a web-designer, architect or, for example, an interior decorator seeks to emphasize his own individuality, giving a unique look to the description of his activity.
The problem is that experienced HR managers spend no more than a minute on the initial review of resumes, and it is unlikely that a convoluted site will interest a recruiter so much that he will understand its interface, looking for the necessary information. The trained eye of a hiring professional is accustomed to running diagonally through a standardized resume, stopping only at the most important.
The ideal combination is a summary of the standard format, containing a link to a portfoliowhich can in any way broadcast the creative impulses of the author.
💚 BY TOPIC: TOP 30 richest people + the size of their fortunes. Where are Gates, Musk and Zuckerberg.
Contact Information
Recruiters emphasize that one of the most common mistakes made by candidates is the lack of complete information about the method of communication. The summary indicates a phone that does not answer during business hours or an E-mail that is never read.
When filling out the block with contact information, you should take care not to miss a call or letter from the applicant. Specify the hours at which you are always in touch, create a separate working E-mail (if there is none) with notifications turned on, additionally register contacts in instant messengers.
💚 BY TOPIC: The 1 Percent Rule: Why do some get everything and others get nothing?
Photo
A resume without a real photo of a person has a value tending to zero. Moreover, the choice of a picture should be taken seriously – the face in the photo should make the HR manager want to contact the candidate.
But even if you turned out great in a group shot from the last party, then cropping and enlarging your face is not enough. It would be much better to spend time going to the nearest salon, where they take photos for documents and explain the task to them. A professional shot will add credibility to your resume.
💚 BY TOPIC: 10 children's questions that not every adult can answer.
Division by specialty
If you are looking for a job in several specialties, then a separate resume should be created for each of them. An employer is not at all interested in your progress in the production of paving stones if he is looking for a Java developer.
Moreover, the resume should focus on one or two recent jobs that are closely related to the position you are looking for.
💚 BY TOPIC: Do not look for the perfect partner, or 7 signs of a strong relationship that should not be broken.
No work experience
The question arises, what should a person without work experience do? First, in any case, you must indicate work experience of at least one year in order to appear in search results with standard filters in principle. And this can hardly be called a lie, even student practice or independent work on educational projects also brings experience.
Secondly, so-called concepts should be created, if the specialty allows it. The simplest example is design. Before looking for the first commercial project, you should complete 3-5 fictional commissions at your best level and publish them in your resume/portfolio as concepts.
💚 BY TOPIC: Warren Buffett's 5/25 rule – highlight the most important things in life.
Skills and Achievements
When describing your achievements, you should adhere to a clear listing format, using perfective verbs in the past tense: did, prepared, developed, completed, provided. Inappropriate: Participated, was on a team, worked on a project, etc.
As for skills, it is important not to overdo it and list only those skills that will be really useful in the position you are looking for. If you want to take the vacant position of the company's chief accountant, you should not list all the programs you have mastered from the Microsoft Office package, as well as mention blind typing from the keyboard and the ability to cross-stitch.
Use reverse chronological order when listing work experience. This allows the employer to quickly track the progress of your career.
💚 BY TOPIC: How is CEO (position) deciphered?
Keywords
Recruiters search for resumes by keywords, and these are the keywords they want to see in almost every section of the document. If this is a resume for a developer position, then derivatives of the word "development" should appear in the main description, skills, achievements, and cover letter, and not be replaced by "developer" or "architect".
💚 BY TOPIC: Who has the most followers on Instagram – the 40 most popular accounts.
Transmittal letter
When submitting a resume to an employer, job seekers often neglect to attach a cover letter or simply paste paraphrased text from the main description there.
The best thing to do is to read examples of good cover letters online that literally sell a resume to an HR manager, and develop your own universal version based on them, which can be attached to each job review.
💚 BY TOPIC: 10 reasons that hinder success.
CV preparation
Try to fit all the information on 1-2 A4 pages. Recruiters in large companies do not spend much time evaluating applicants' profiles, so you should not turn a document into a "canvas" of text. Pay attention to the neat formatting of the text and the absence of grammatical errors.
Do not use large and overly original fonts. The standard approach is appropriate here. Ideally, use Times New Roman or Arial. 11-12 font sizes look good. Headings should be larger.
Where to download ready-made resume templates and samples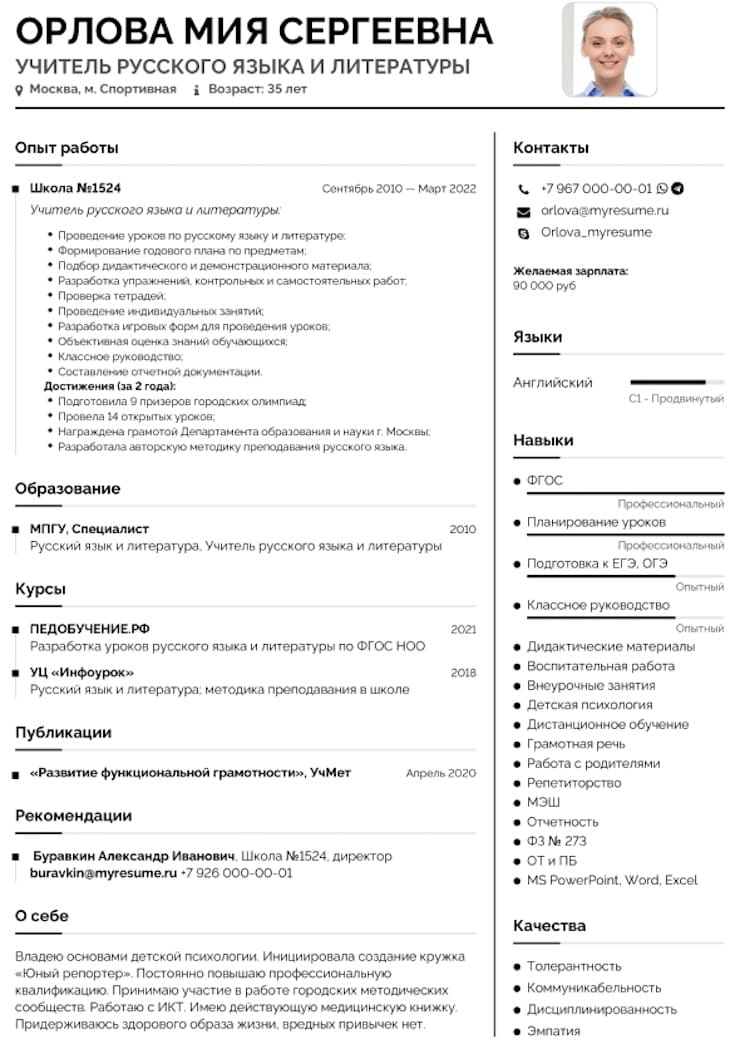 The Internet is full of websites with free resume templates and templates. To get started, type in the search phrase "resume templates' and view the search results.
🔥 See also:
🍏 We are in Telegram and YouTubesubscribe!