With the release of iOS 15, Apple added some new advanced features to iCloud designed to improve user security. In particular, we will talk about the "Hide Email" feature, which allows you to hide the user's Apple ID email address from the applications and services they use.
💚 ON TOPIC: Common iPhone passwords: how to create and use.
Apple first offered a way to hide your Apple ID email using the Sign in with Apple feature introduced back in 2019. With the release of iOS 15, email privacy will be ensured by a separate function called "Hide Email" with the ability to manually control it.
Here's how Apple describes it:
You can keep your personal email address private by creating unique, random addresses. Emails from them will be forwarded to your personal mailbox and can be deleted at any time.
If you haven't used it yet "Sign in with Apple"then the function "Hide Email" offers an enhanced level of privacy, flexibility and control. This will give you confidence that the right people will know your real email address and not others. Let's look at how this all works on iPhone and iPad.
💚 ON TOPIC: How are SIM cards hacked and how can you avoid it?
"Hide email" is a paid feature?
Yes. The "Hide Email" function comes with the service iCloud+which Apple calls everything iCloud paid plans. Unfortunately, you won't be able to fully use the Hide Email feature if you have the iCloud Basic tier with 5GB of storage.
💚 ON TOPIC: Set up your iPhone for parents and seniors: 25 tips to make it easier to use.
What's the difference between Hide Email and Sign in with Apple, since the latter also hides your email address for free?
Sign in with Apple only hides the email address associated with the Apple ID used to sign in to an app, service, or site. In turn, the "Hide E-mail" function allows you to hide any of your other e-mail addresses.
💚 ON TOPIC: "Check In" in iMessage on iPhone and iPad, or how to track your friends' movements.
What happens if you enable the "Hide email" function
When using the "Hide e-mail" function, the system will create a unique random e-mail address that will be associated with the real e-mail address. This way, your personal email address will not be shared when you set up your account or sign in. The randomly generated address looks like this: @icloud.com
For example, if your Apple ID email address is yablyk@gmail.com, your unique random email address for the given app you are using might look like summer-04@icloud.com.
All messages sent to the created E-mail are automatically redirected to your personal email address by a special Apple relay service. You can read and respond to these messages while maintaining the confidentiality of your personal address.
Apple does not screen or process the content of email messages passing through the relay service, other than standard spam filtering, to maintain its status as a trusted email service provider. Once delivered, all messages are deleted from Apple servers within a few seconds.
💚 ON TOPIC: Built-in password manager on Mac: how to view saved passwords?
How to hide Apple ID address and other e-mails from applications, services and sites on iPhone and iPad?
1. On an iPhone or iPad running iOS 15 or later, open the "Settings" and tap your name at the top.
3. Select iCloud.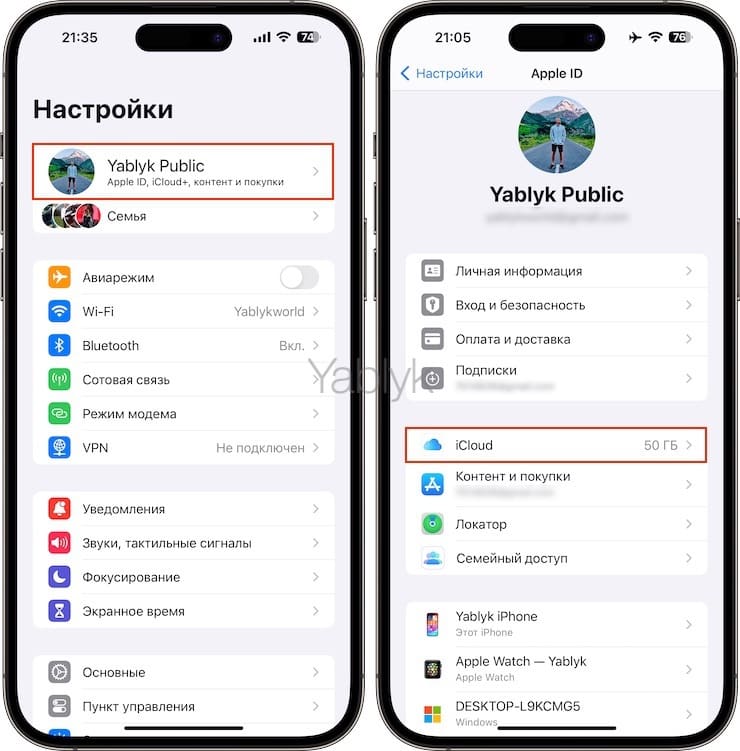 4. Now click "Hide Email"
5. Select the option "+ Create a new address"
6. You will be able to see all currently used alias emails from the service "Sign in with Apple"click on one of them to control it.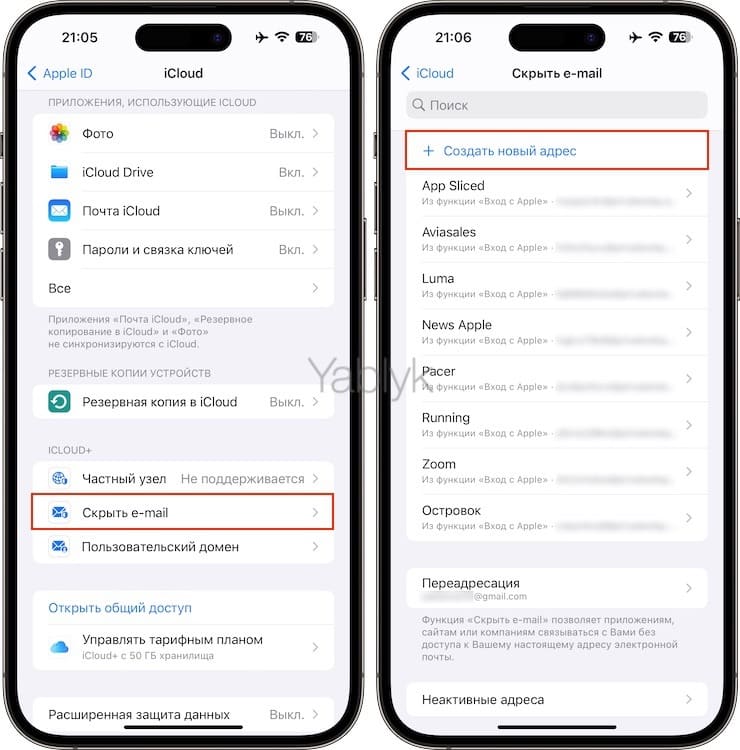 7. Here on this page in the menu "Forwarding» you can specify the email address where emails with this randomly generated nickname will be sent.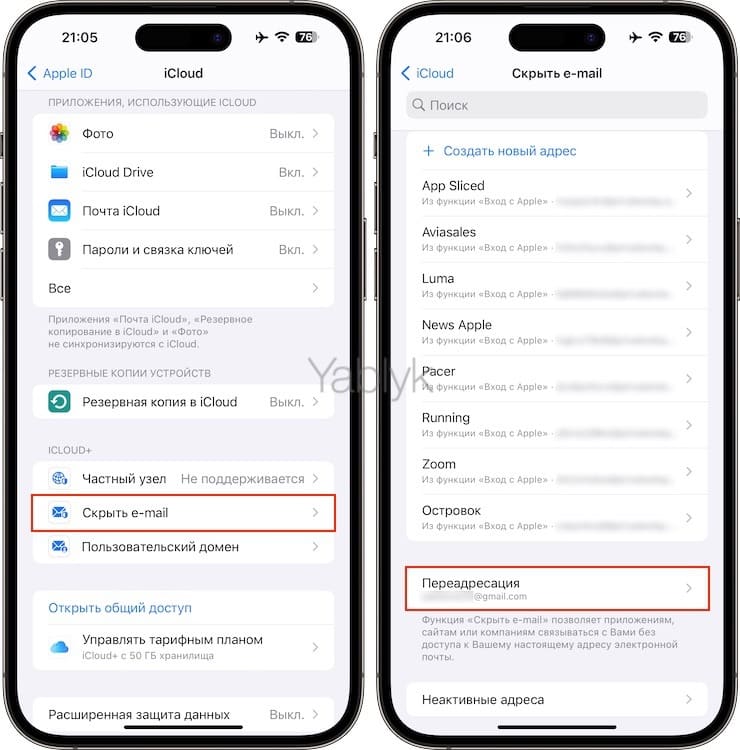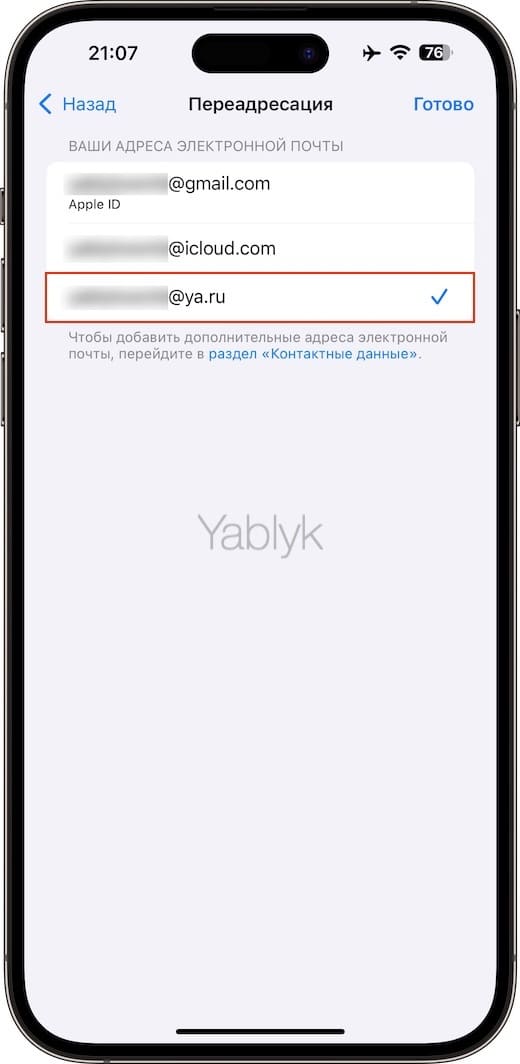 When you create a new random email alias, you can use the first option given to you by clicking "Continue" or click on "Use a different address"to generate another random address.
The final step in the organization process is to create a label for the address and a short description of it. When finished, all you have to do is press "Ready".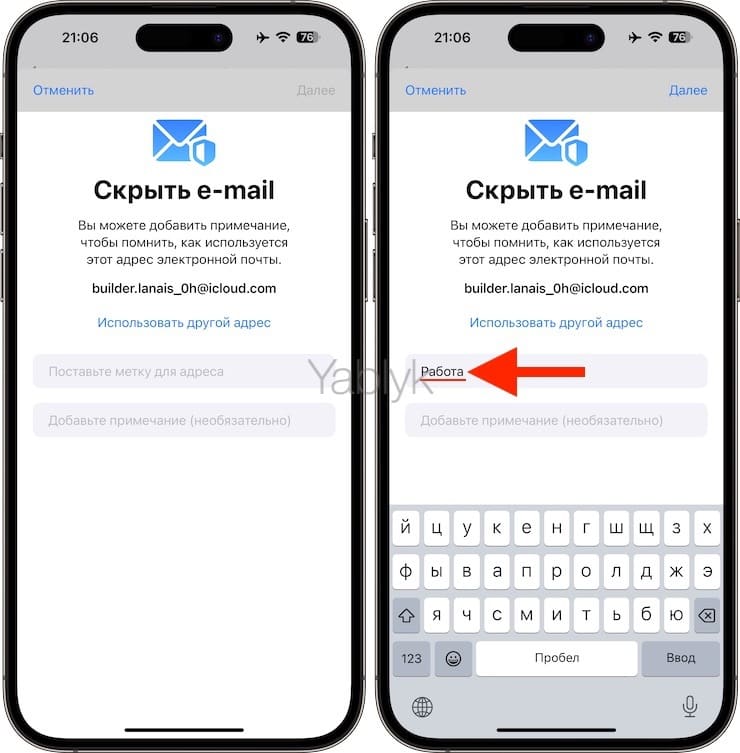 Now in the "Hide Email" list you will see the new address you created, ready to use. Each alias will also be marked as coming from a function "Sign in with Apple" or "From Settings" when created manually.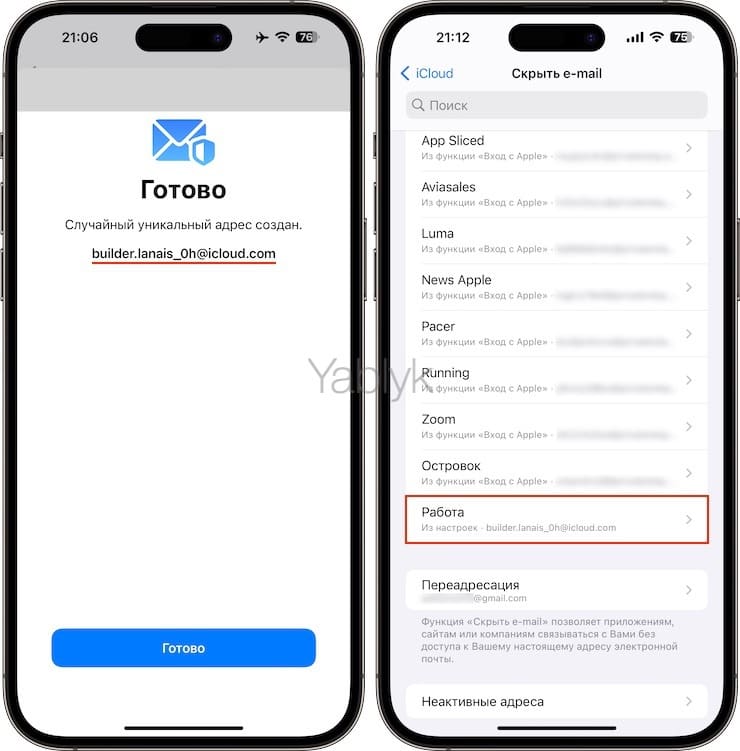 You can click on manually created nicknames to change their label, description, or disable them altogether.
💚 ON TOPIC: Which iPhone has better battery life? Comparison of battery life of all current iPhones.
How to add another email address for forwarding in the "Hide Email" function
To add an email address, you must complete the following steps:
1. Open the application "Settings" and go to the section "Apple ID"(your first and last name).
2. Select menu "Login and security"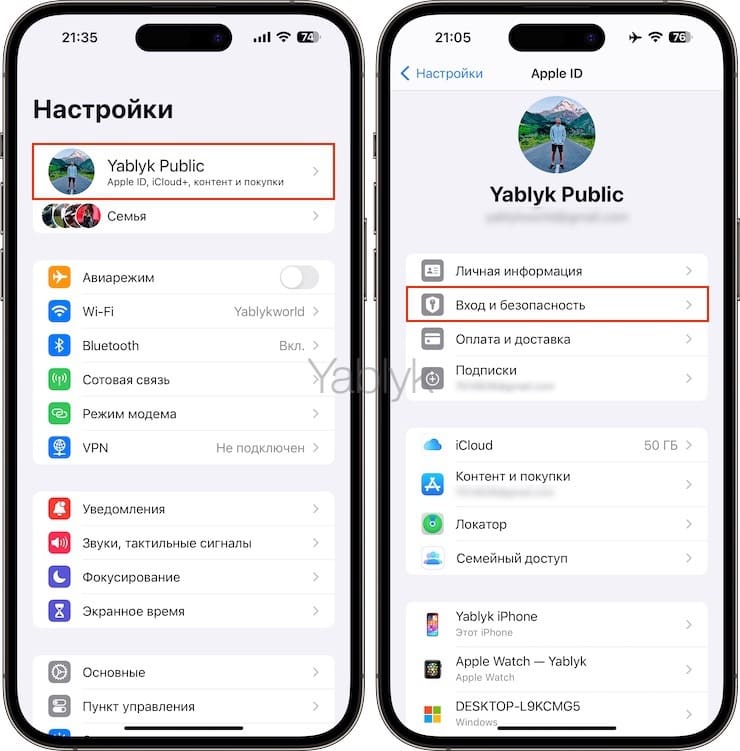 3. Click "Change" in the upper right corner, and then tap on the button that appears "Add email or phone"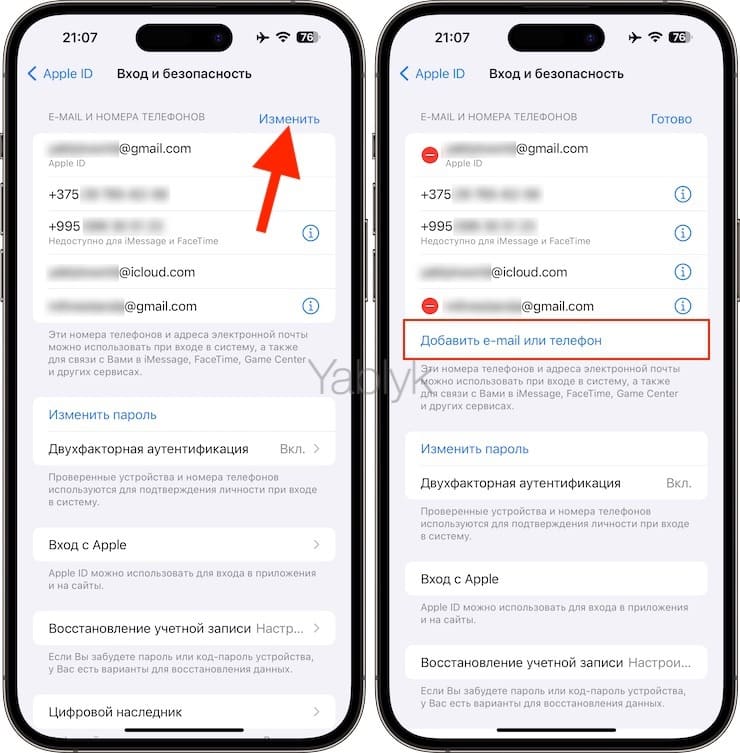 4. In the context menu that appears, select "Add email address"
5. Enter the e-mail address to which letters from the created function "Hide Email» email addresses.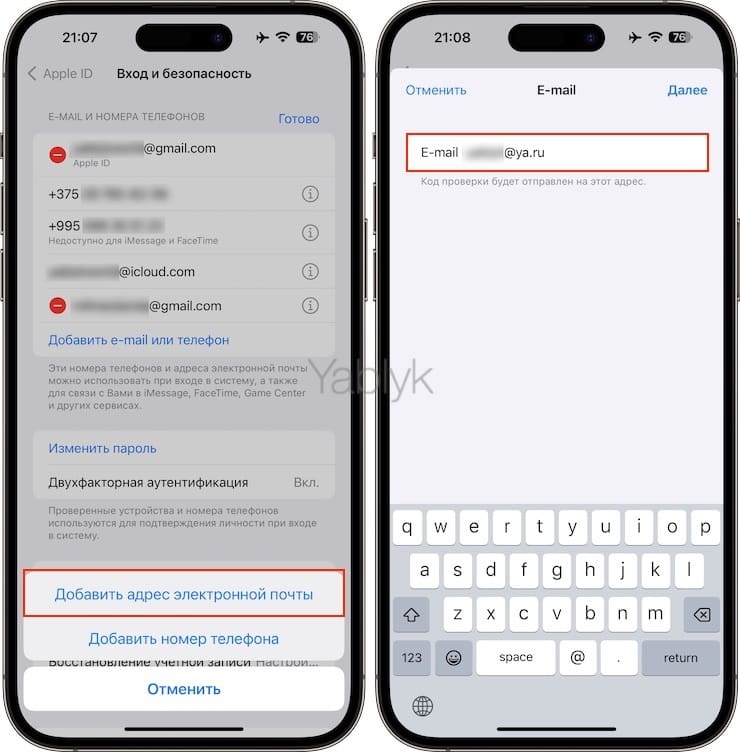 6. A verification code should be sent to the specified e-mail, enter it, after which the added address will appear in the list of your e-mail addresses.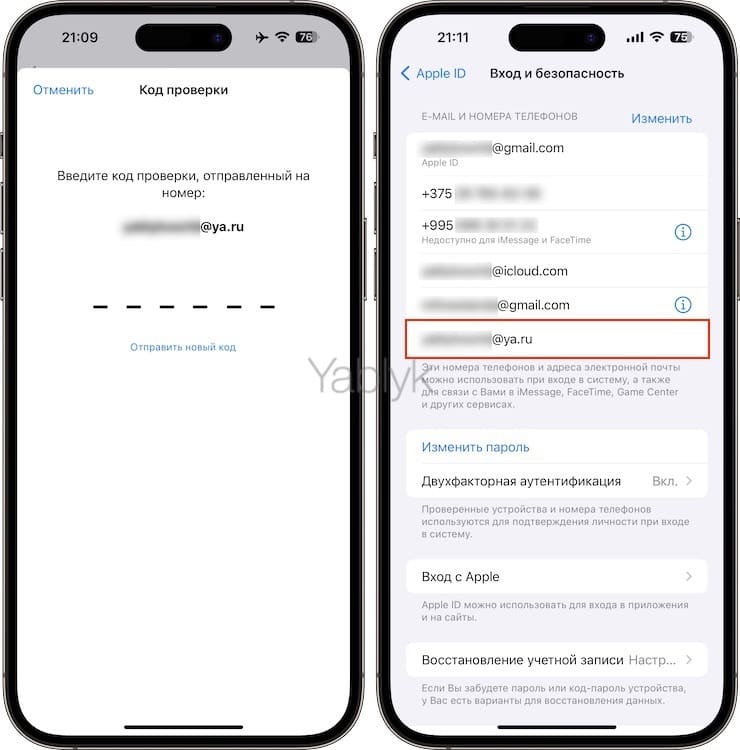 In addition, this address will become available in the menu "Forwarding"on the way Settings → iCloud → Hide email.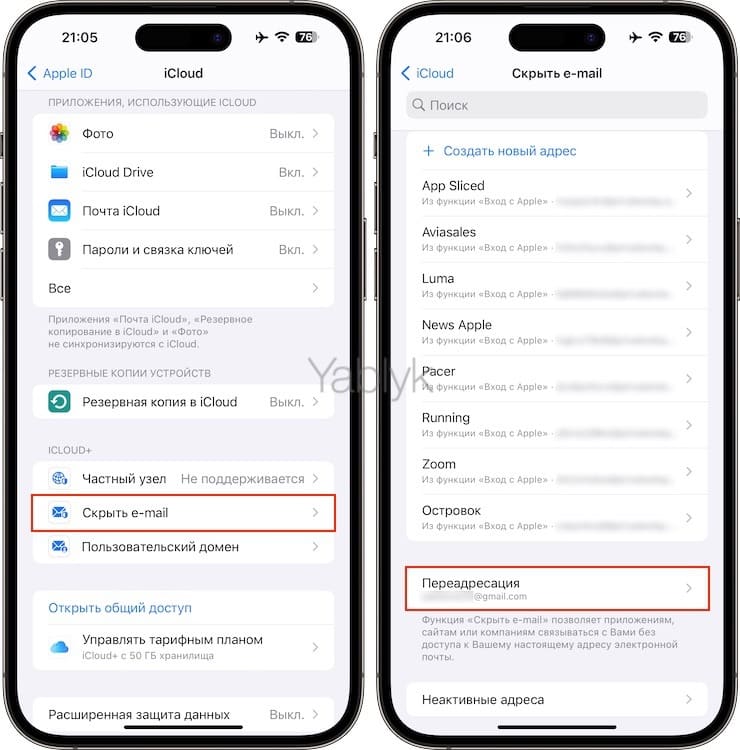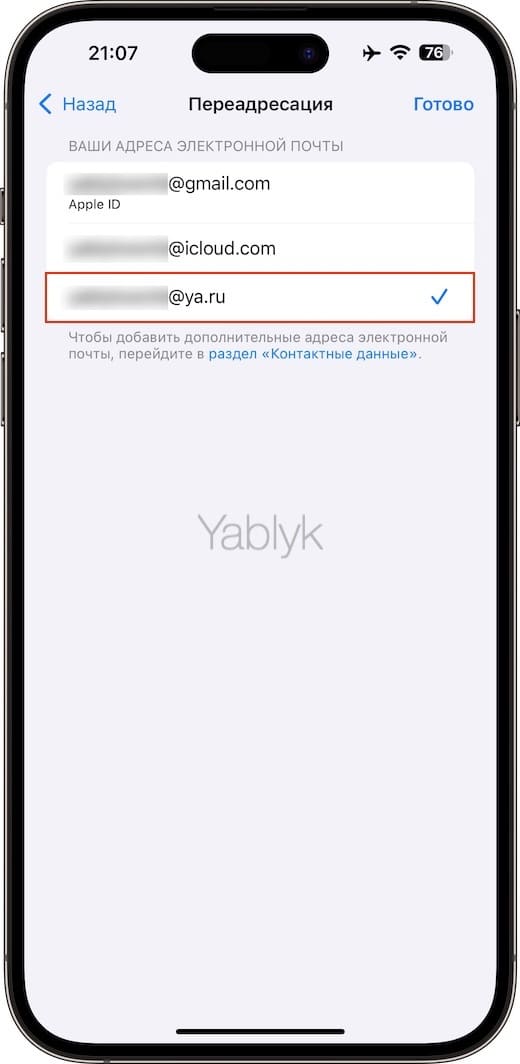 🔥 See also: