It's hard not to feel a deep nostalgia when talking about the fighting games that marked the 90s. Also caught up in this emotional whirlwind, the developer Retro Army Limited wanted to show this love by giving birth to Verdict Guilty. Available for a lease on PC, Verdict Guilty is now out on Xbox consoles.
Verdict Guilty is presented as a tribute to Street Fighter II, Fatal Fury and all the other 2D versus fighters that marked our youth. However, he puts aside the traditional formula based on a secret and nasty organization that organizes a fighting tournament, to invite us instead to follow the confrontation between law enforcement and thugs in the city of Neo Seoul.
Verdict Guilty also exploits its screenplay framework more deeply than its elders. A story mode allows us to follow the adventure darkseolesque of the eight basic characters (four are police officers, the others thugs), with small dialogues which come to intersect the confrontations. The story is nothing extraordinary but we appreciate the effort. Playing this mode is otherwise interesting to discover the game mechanics, the battles of the story mode requiring you to perform certain specific actions in order to win. Using only a combo, projections or ranged attacks: so many restrictions that make the story mode of Verdict Guilty a tutorial finally well coated. Count a quarter of an hour to complete the story of a character.
This introduction allows you to become familiar with a game that remains very accessible anyway. This is also how it is presented to us. Verdict Guilty is intended to be suitable for neophytes as well as players who may be more experienced, but customers of a primarily recreational experience. Each character has two basic combos (rather brief) and a quartet of ranged attacks, which can be activated very easily. The most complex command to achieve is in a quarter circle. Don't go looking for 36 counter mechanics, super attacks and what not.
Verdict Guilty has the only specific feature of a button dedicated to mugs, the effect of which changes depending on whether the character is a policeman or a brigand. In the first case, we can handcuff the opponent and annihilate his ability to attack for a few seconds; a convict can for his part stick a bomb in the back of his opponent to inflict inevitable damage after ten seconds. The mechanics are a bit messy because Verdict Guilty is clearly not a balanced fighting game, but the idea is quite good. Finally, note that there is no question in Verdict Guilty to send fireballs. Ranged attacks essentially go through firearms for which a small second of reloading is necessary between two salvos.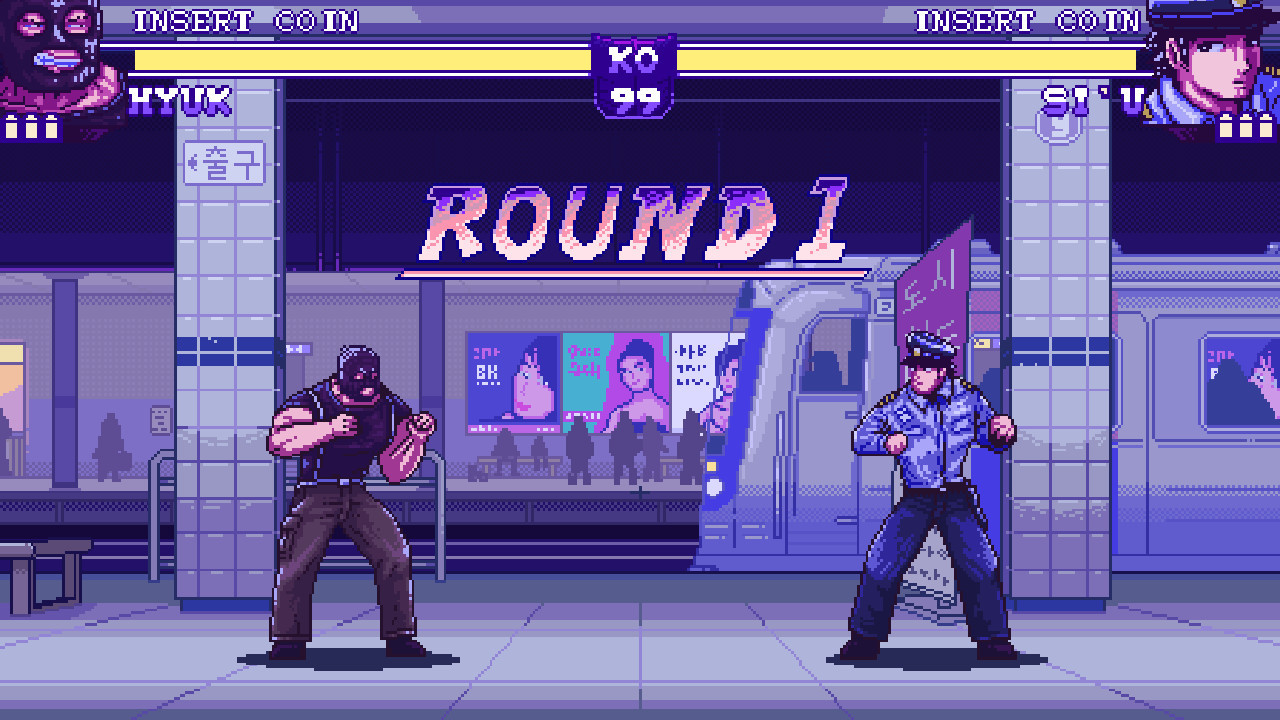 Verdict Guilty is playable in local versus and has several solo modes. On the sidelines of the story, we are entitled to the traditional arcade, survival and training modes. You can then unlock the "duelist" (the first to strike wins), "Turbo" and "Master" modes. The latter offers an increased difficulty and it is not a bad thing! Verdict Guilty's big flaw is certainly its great ease against the AI. It is enough most of the time to fight at a distance to literally explode all the opponents, none or almost having at a time the idea of ​​coming into contact. We also note in the AI ​​the chronic forgetfulness of protection. We understand the desire to offer an accessible game but at this stage, not sure that everything related to the facility was voluntary.
It must also be said that the game does not really encourage fighting in melee, the fault of the very limited combos and a fairly rigid handling. Special mention to the jumps because it is difficult at the start to anticipate the character's point of fall. It really feels like playing an AA fighting game truly from a Mega Drive or Super Nintendo, for better or for worse.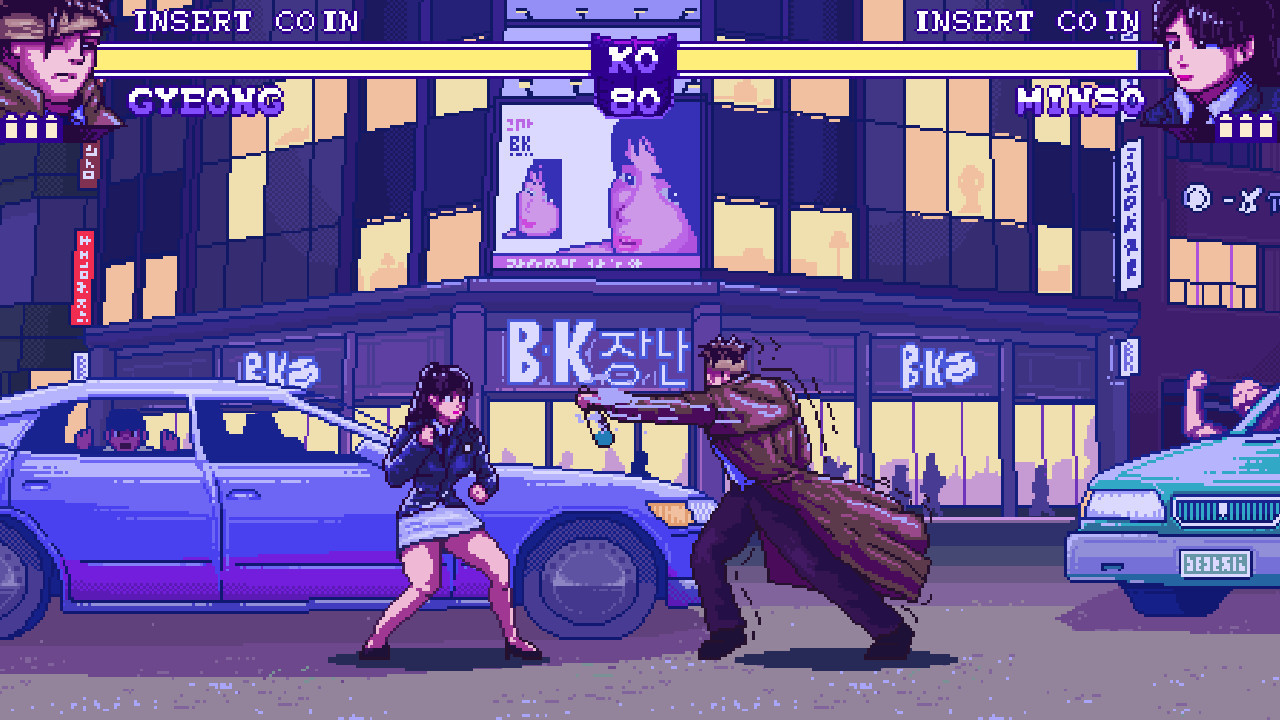 It is on the best of Verdict Guilty that we conclude this test all the same. The game is graphically pleasing, well-animated, and pays honest homage to its illustrious ancestors. The pixel art is mastered, the decorations numerous and rather well animated in the background. The police universe of the game gives birth to an interesting cast despite some failures (the poor policewoman, moreover the only woman on the starting roster). Other fighters can also be unlocked by completing arcade mode multiple times, although these are really just upgraded skins. Each character thus has an "alternate" with a fairly differentiated design but whose range of moves remains the same. Note that we meet several (unfortunately) non-playable characters during the progression in the arcade, three of which are from Breakers, a game born on Neo Geo and available for some time on Xbox Series and Xbox One. Sound level finally the work is clean and efficient, without succeeding in anchoring a particular theme in our ears.
Verdict Guilty is a little fighting game that does not lack appeal and which in a way fulfills its mission of homage to the 90s. It achieves this by relying on a police universe that goes off the beaten track and which benefits from a neat pixel art graphic rendering. If his desire to be accessible to all could seduce, Verdict Guilty unfortunately pays a heavy price. Difficult to be passionate for a long time for a game with limited mechanics, quite rigid and above all weighed down by an AI flush with the daisies. Verdict Guilty is a game to consider acquiring for a few pleasant hours in solo and possibly confrontations without the headache of two on a couch.
+
Graphically pleasing

Quite original and exploited universe

Accessible to everyone…
–
…to the point of significantly lacking depth

AI not at all developed

Still very stiff