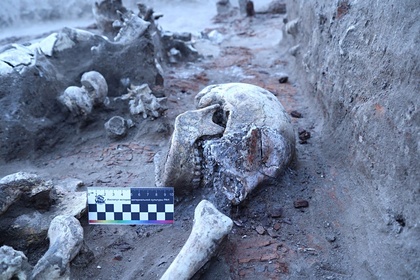 Researchers of the Institute of Material Culture of the Russian Academy of Sciences unearthed funerary masks of the 2nd-1st centuries BC in the south of Khakassia
Employees of the South Siberian branch of the Institute of the History of Material Culture of the Russian Academy of Sciences (IIMK RAS) discovered several well-preserved burial masks of the Tesinsky culture in the burial mound Smirnovka-4 in the south of Khakassia. This was reported on the website of the institute in "In contact with".
So, under the burial mound, the researchers unearthed the Tesinsky crypt – a large collective grave, in which objects characteristic of the Tesinsky culture (II-I centuries BC) were found: fragments of products made from birch bark and Chinese lacquer, iron knives with a ring-shaped pommel, glass beads and bronze plaques. The main discovery was the whole plaster masks on the faces of the buried.
"They were applied when preparing the body for burial: after removing the skin and extracting the brain (through a hole in the temporal lobe), a layer of clay was applied to the skull, on which, after the formation of facial features, gypsum was applied, which makes it possible to designate fine lines of facial expressions," the source said. IIMC RAS.
It is noted that specialists have a difficult job of fixing and preserving masks, including for the purpose of further exhibiting in the museum.
Earlier in June, the cost of traveling to the places of rest of Russian President Vladimir Putin became known – the route runs through the territories of the Krasnoyarsk Territory, Tyva and Khakassia. Thus, the tour "Siberian holidays" will cost from 59 to 90 thousand rubles per person.