The rally aspect suffers from the openness, the game world is not very exciting, but there is a lot of new content and the usual good gameplay.
What do you associate with rally? For me, based on what I see of rally events, what I've played in the WRC series or even in previous Colin McRae games, these are tight tracks. This is where absolute precision work is required to avoid ending up on the next tree or hitting a stone on the side of the track with your rear end in a curve. Unfortunately, that thrill is missing from the new Rally-Adventure expansion for Forza Horizon 5.
Instead, you have the typically extensive routes that you already know from the base game. Conversely, this does not mean that nothing changes at all. A few things yes, but not quite enough for the full rally experience.
Forza Horizon 5 and Rallye, do they go together?
The question is whether a Forza Horizon 5 and rallying go together at all. The game places great emphasis on its open world, which is precisely at odds with rallying. And for the expansion, this open concept is not simply thrown overboard. You break through stone walls with your car as usual, plow through forests. It's probably also because you can complete each race event in two different ways.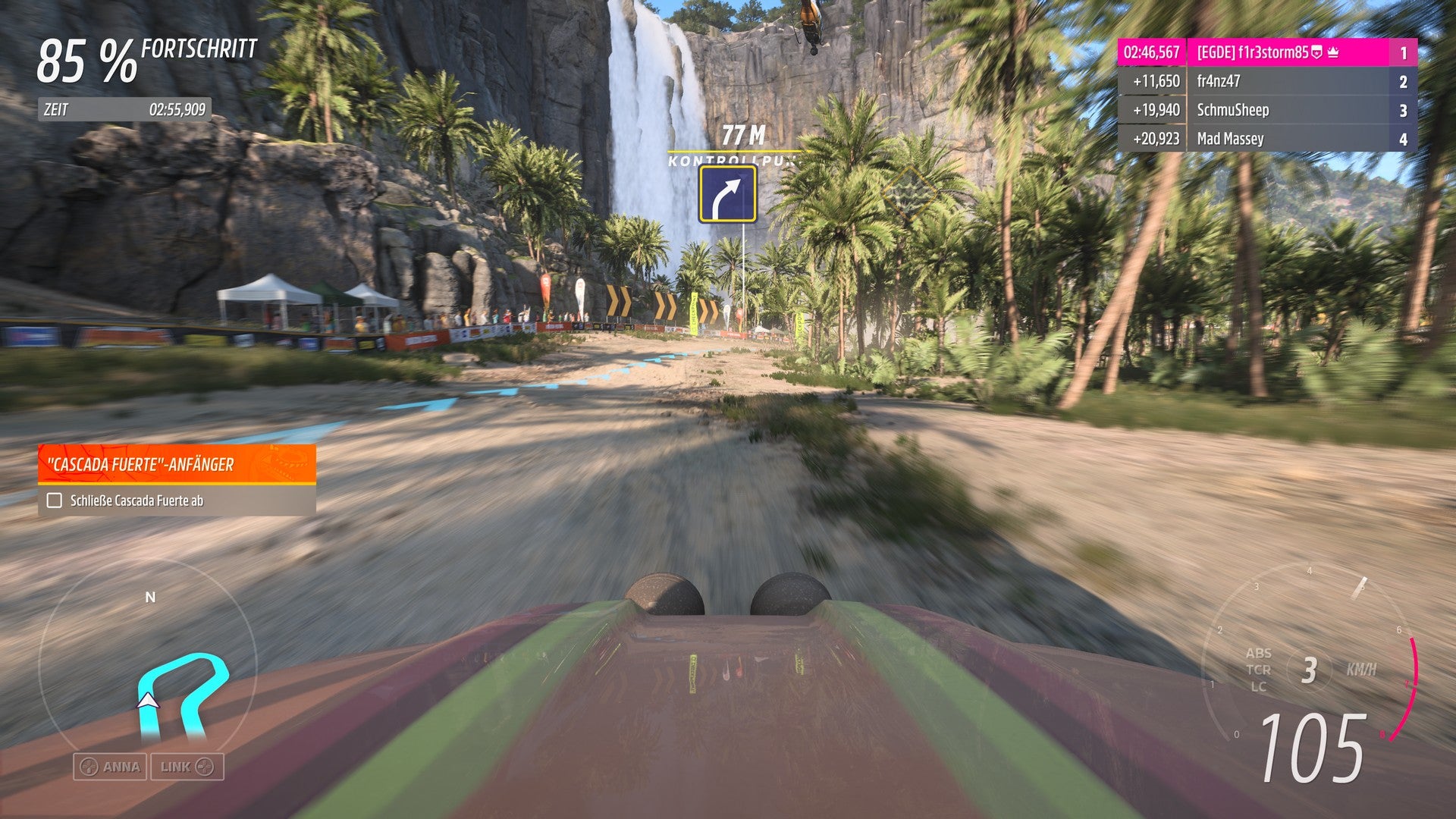 Once in the new rally style. What does that mean? You drive alone against the time from A to B, only you are on the slopes. For an additional challenge, you can optionally do without the ideal line and only use the symbols displayed and the announcements on the route to orientate yourself. Just like you know it from a rally. But as I said, the streets are wide, you don't really suffer if you leave them at times. That's one aspect I really like about the main game, it just doesn't really fit the rally.
Why are the streets so wide? Probably also because you can complete a normal Horizon race at the events as a second option. So you can compete against AI drivers like in the main game. And narrow roads would be counterproductive. Playground Games tries to balance both, but in the end the rally aspect suffers.
Lots of content, but not an exciting world
In any case, there are a lot of new events, besides races, these are the usual activities that you know, like new speed cameras and so on. The Raylle events themselves fall into three categories: street racing, off-road racing and night racing. Each area is represented by a specific team. Initially you have to choose one of them, but you'll also unlock the other two as the game progresses, so you don't miss a thing. Along with this comes a new rewards system that allows you to rank up on each team individually and unlock new rewards by completing challenges or reaching certain milestones, for example.
You can find all of this in the new region of Sierra Nueva, which consists of a total of six biomes. These include craters, an abandoned quarry and a palm forest, which you can of course flatten with your car if you have to. Overall, this is a coherent place, although it's too close to the main game in terms of look and feel. Ultimately, for my taste, nothing extraordinary, nothing special sticks with the environment, which is a shame.
The respective routes may offer more opposing curves, crests and jumps than in the main game, but the spaciousness and openness mentioned at the beginning robs the whole thing of its thrill.
You can also expect new customization options for your vehicles, more toys for the EventLab, new music, an (optional) start control for the perfect rally start and ten new vehicles. These include the 2001 Ford #4 Ford Focus RS and the 2022 Ford F-150 Lightning Platinum, but of course vehicles from the base game can also be used in Rally Adventure.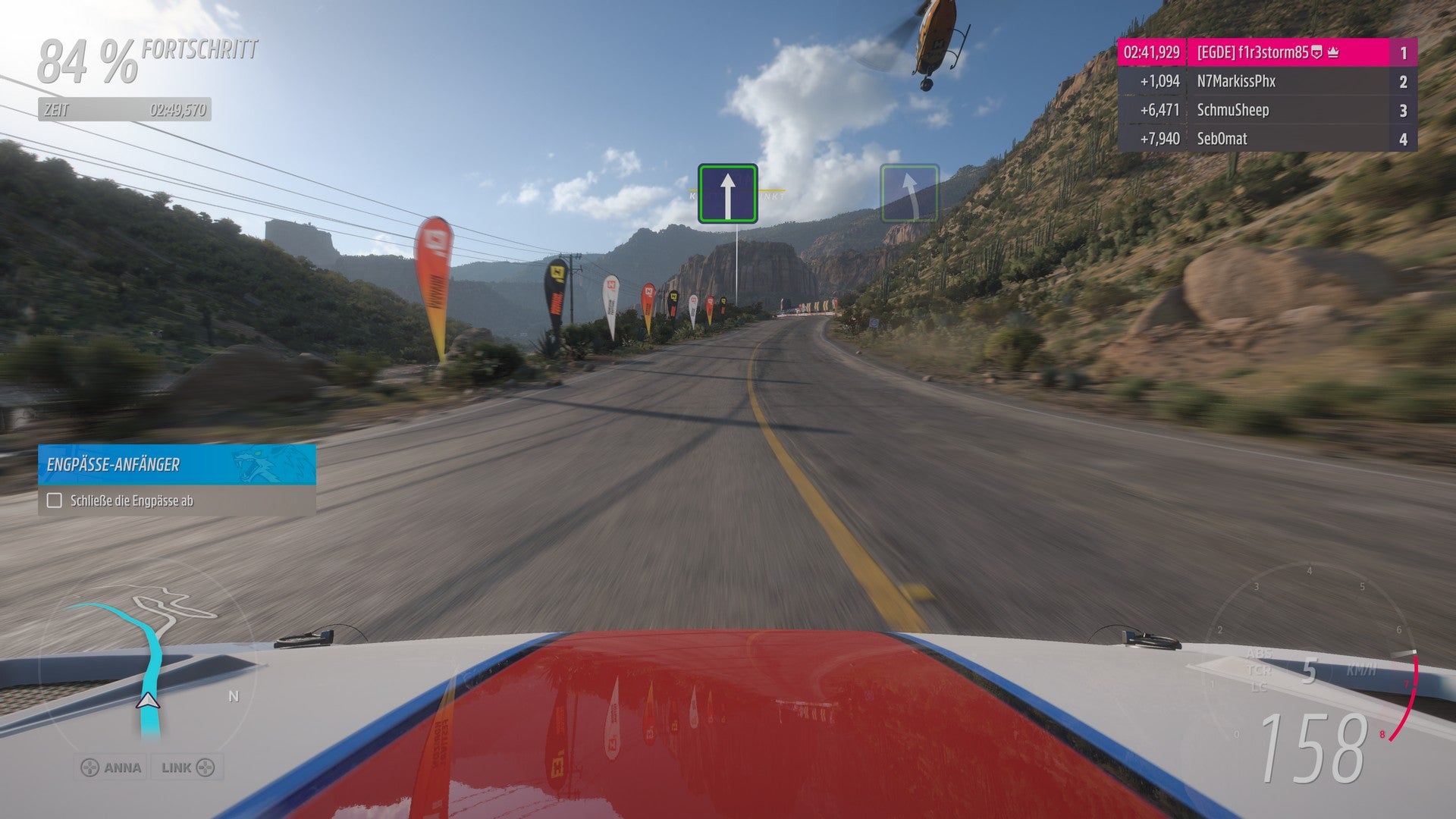 Forza Horizon 5: Rally Adventure – Fazit
Rally Adventure might be a disappointment for true fans of rallying, but if you look past that, it's still fun to play with. At least I had that, Forza Horizon 5 is just too much fun for me at its core. Numerous new races and other activities are available and will keep you busy for quite a while until you have exhausted everything. In view of this, the price of 20 euros for the content offered does not seem excessive. However, the insipid aftertaste remains that Playground Games doesn't really go all out and doesn't get the maximum out of the rally aspect. In this respect: If you really hope for pure rally feeling, you should curb your expectations. Apart from that, Rally Adventure is a good, but by no means essential expansion of the main game, which overall falls short of its potential.
Forza Horizon 5: Rally Adventure Rating: 7/10
Forza Horizon 5: Rally Adventure – Pro und Contra
Pro:
Lots of new content
Completely new game world
Ten new vehicles
Three teams, each with their own rewards
Entertaining gameplay known from the main game
---
Contra:
Too open tracks for rallying, little thrill
The game world is very reminiscent of the main game and offers little that is exciting
Developer: Playground Games – Publisher: Microsoft – Platforms: Xbox Series X/S (getestet), PC – Release: 29.03.2023 – Genre: racing game – Price (RRP): €19.99 (single purchase) or €49.99 (add-on bundle)
You can download Forza Horizon 5: Rally Adventure on Steam and in Microsoft Store
kaufen.