News tip DG-58 Modern Warfare 3: What is the best class for this assault rifle in Call of Duty multiplayer?
The DG-58 from Call of Duty: Modern Warfare 3 is an excellent assault rifle that can easily compete with the MCW. It just needs a few accessories to become a real machine. So, find a class that will allow the DG-58 to shine on the battlefield in all circumstances.
Summary of all our guides on Call of Duty: Modern Warfare 3
Our configuration for the DG-58 on Modern Warfare 3
The DG-58 is a fairly well balanced weapon in factory condition, thus, our class focuses on improving certain parameters which seem interesting to us for the Multiplayer of Call of Duty: Modern Warfare 3. In a dynamic of improving certain aspects, without reducing the reliability of others, we have chosen to reduce the handling of the weapon so as to improve your damage, the range of your bullets, your precision, your recoil as well as a bit of mobility. You will have understood, this class aims to enhance the DG-58.
Cannon accessory: FTAC Ripper 56
Mouth: Hardbinger D20
Cannon: CDG T-25 light cannon
Scope: Viewfinder of your choice
Ammunition: 5.56 NATO High Grain Ammunition
Although almost all weapon parameters are improved, we highlighted the precision, as well as the range of the bullets of the DG-58. Our mission here was to make the DG-58 much more versatile than it already is. This is why we chose to equip the FTAC Ripper 56, the CDG T-25 Light Cannon as well as the 5.56 NATO High Grain Ammunition.
The muzzle, the Hardbinger D20, provides better recoil to the assault rifle as well as better velocity and greater range for bullets. However, these improvements come at a price, namely the handling of the weapon. Getting into aim is a little more complicated, but the rest of the settings have been tweaked so you can take out your opponents quickly.
No accessories have been provided to compensate for the handling, because the DG-58 already has great maneuverability. This loss is minimal compared to the improvements made.
The complete class for the DG-58 on MW3
This part of the article is really subjective, because not all the advice we give you is worth taking. Indeed, it all depends on your way of playing. But in order to iron out the last flaws of the weapon, we have still prepared a complete class so that you can get an idea of ​​what it can be like.
Armor: Infantry vest
Secondary weapons: Launcher or secondary weapons of your choice
Combat Upgrade: Ammo Box
Gloves: Commando Gloves
Boots: Tactical pad
Equipment: Bomb protection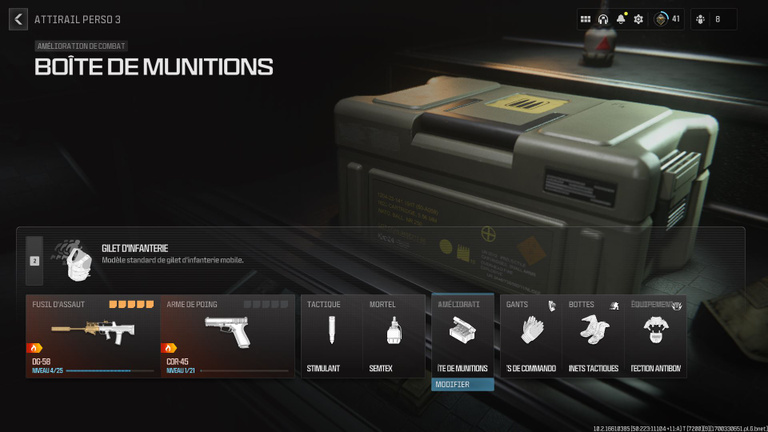 However, you are free to choose the pieces of equipment that suit you best. Your way of playing, your needs and your vision of play may completely differ with this class, so modify it according to your desires.
About Call of Duty Modern Warfare 3 (2023)
Test
Is Call of Duty Modern Warfare 3 as bad as everyone says? Here is our opinion
Game news
Call of Duty Modern Warfare 3 is available: the 5 things you absolutely need to know!
Wiki
COD MW 3 Complete Guide
News tip
Modern Warfare 3: the best weapons for Call of Duty multiplayer