Asovism has announced that the "186th Duel Match Main Tournament" will be held on "Dragon Poker" from November 21st.
"186th Duel Match Main Tournament" held!
Duel matches are real-time interpersonal battles that can be completed in 3 turns and can be played 1v1. There are three types of battle rules: "annihilation battle," "defense battle," and "contest battle." In the main battle, the special skills and battle type change each time.
*You can try all the rules in the practice match.
■Event period
From November 21st to November 23rd
■Duel match time
7:00-7:59
12:00-12:59
17:00-17:59
22:00 – 22:59
■No. 186/Rules
《Annihilation Battle》
Victory conditions: Win if you have more BP at the end, or win if you wipe out all the opponent's monsters.
■No.186・Special Attack Skill
thrust/bite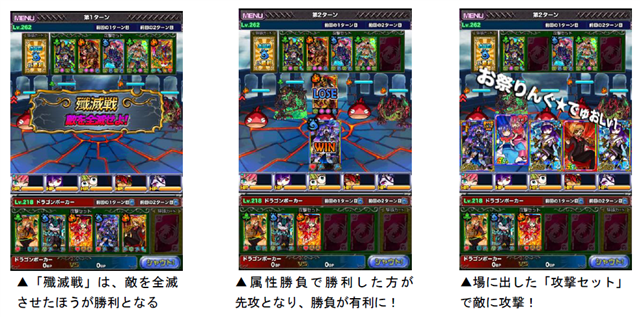 ■Reward
Depending on the number of wins during the duel match period and the league ranking position at the end, you can earn rewards such as dragon medals, S rare gacha tickets, goddess skill fairies, etc. If you meet the conditions for the total number of wins, you can receive limited cards. Can be obtained. In addition, you can obtain "Duel Medals" for each battle, which can be exchanged for powerful henchman cards at the "Duel Medal Exchange". Challenge duel matches and get exclusive rewards!
Event "Tower Dungeon" held!
"Tower Dungeon" is an event where you challenge a highly difficult dungeon with a total of 100 floors. By clearing dungeons, you can obtain reinforcement materials, dragon stones, cards from defeated enemies, etc. In addition, it is equipped with an "Overdrive System" that allows you to use "super special moves" during battle by equipping it. Make full use of your customized Overdrive and aim to defeat the final boss waiting on the 100th floor!
■Event period
From November 23rd 12:00 to December 4th 11:59
■Participation conditions
・Level 150 or higher
・The combat power of the tower deck is 80,000 or more.
・No "unequipable cards" are equipped in the tower deck.
・The tower deck must be equipped with any "overdrive"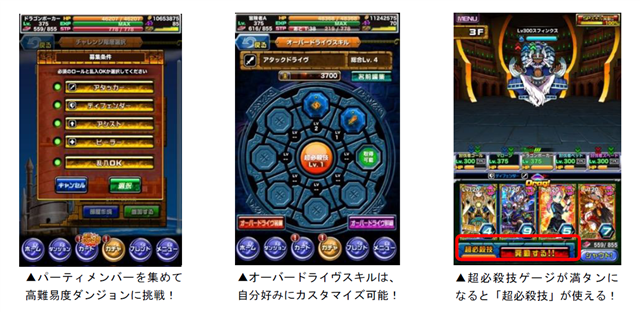 ■"Ancient Wizard's Trial Field" held
"Ancient Wizard's Trial Field" is a dungeon with a total of 6 floors. Bosses appear on every floor, and you can occasionally obtain defeated boss cards from mission clearing or treasure chests. Also, the total number of turns it took to defeat the enemy will be displayed, and you can receive a title accordingly.
Ⓒ 2013 Asobism Co., Ltd.