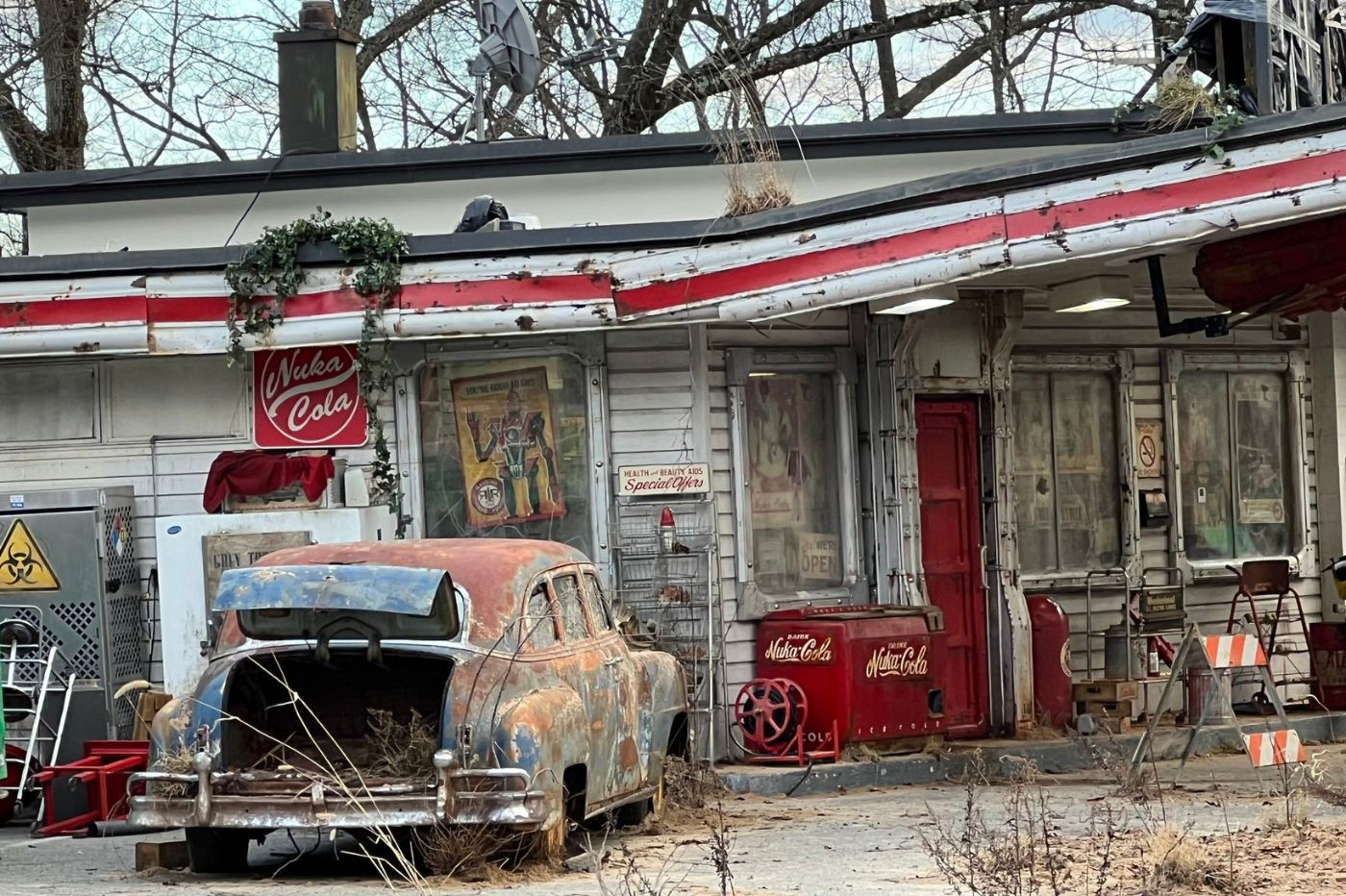 A leak of filming locations for the RPG adaptation reveals extremely faithful settings to the game.
Post-apocalyptic video games are about to reign supreme on Prime Video. On January 12, Amazon created a surprise by announcing a historic partnership with Warner Bros. All of the group's programs and in particular the HBO productions finally found a new home with us after the end of the contract with OCS. This alliance is also accompanied by the broadcast without additional cost of the series The Last of Usa real boon for the streaming platform as Joel and Ellie break all records.
Soon, Prime Video will release its own adaptation from one of the greatest franchises in history. In 2020, the firm of Jeff Bezos obtained the rights to adapt fallout on the small screen. Since then, this series has been in development in the shadows and gave very little news. Today, that information drought comes to an end as the first images from the shoot surface on Twitter.
Particular attention to detail
If there is one thing that makes The Last of Us such a popular series is the quality of its production. While being extremely faithful to the game, it still manages to make its own mark on the universe and develop it in a direction suitable for the television format. The visuals are impressive and it is possible to notice the expert work carried out on the sets, whether physical or in computer-generated images. It's been flawless so far, and Amazon intends to do the same.
Series fallout will transport us to emblematic places of this retro-futuristic and post-apocalyptic world. Photos shared by a certain J Carson reveal the famous Red Rocket gas station that players know very well. This reproduction in physical set is extremely faithful and bodes well for this project.
Looking forward to seeing the sign uncovered. pic.twitter.com/gzyGt4EZ9j

—J Carson (@jcarson_nyack) January 24, 2023
The first official image released by Amazon on the occasion of the 25th anniversary of the franchise fallout already proved that respect for the original work was going to be the key word. From the costumes to the aesthetics of the entrance to a nuclear shelter, nothing is left to chance to convince fans. Now, the production has to find a happy medium in order to captivate the general public, as does The Last of Us right now. The series is so popular and introduces so many people to this universe that sales of the game have multiplied astronomically. Will Bethesda's license be entitled to the same resurgence of glory?
Congratulations and Happy 25th Birthday! We made something special for the occasion. #Fallout #Fallout25 @BethesdaStudios @Bethesda @Fallout @Kilter_Films pic.twitter.com/eFg7t5O8Wa

—Prime Video (@PrimeVideo) October 25, 2022
Prime Video remains discreet about the progress of its own post-apocalyptic series, but official information should be forthcoming. Hopefully, fallout could hit the platform sooner than we think.