The MagicBook, from Honor, is one of its machines without history, which is positioned at an attractive price and keeps the bulk of its promises without disappointing, nor necessarily inspiring. They give satisfaction and that is the main thing.
Bigger, but not good enough
With the MagicBook 16, however, Honor sets the bar a little higher. Because, when we launch a machine equipped with such a large panel and refreshed at 144 Hz, please, it means that we want to offer its users additional comfort, a more pleasant experience on a daily basis. This is also why we are starting our little review of the workforce and our test with this point.
In this case, the matte slab is large and rather comfortable visually, tripping over each obstacle, at each measurement point. Its luminosity is thus very low, not to say feeble. With 308 cd / m2, we tell you straight out, you should not hope too much to work comfortably in a very bright environment. The contrast ratio isn't great either, the 01Lab measurements give it a ratio of 864:1… That's little, really little. So much so that the screen of the MagicBook 16 is, on this point, 88.2% worse than the average PC in the same category tested over the past two years.
If you hope that the colorimetric fidelity will manage to make you forget these few setbacks, think again. The Delta E 2000, measured by 01Lab, is 4.18. Once again, this result is not very glorious, it is even 12.3% worse than the average of its competitors.
Quite dimly lit, not terribly contrasting, does the Full HD panel score points in other areas? No. The definition, which could be comfortable for this screen size, is unfortunately handicapped by a low pixel density, too. With its 137 pixels per inch, the MagicBook 16 will not guarantee the best, or even the minimum that can be expected. To the point that we tick, even for this price (999.90 euros officially). It's really little, and it shows on a daily basis, especially when you edit text or read articles online. The aliasing of the fonts is a little aggressive for the retinas.
Finishing and comfort of use
The 16.1-inch LCD (IPS) panel determines the presence of a slightly imposing case with almost 37 cm in width. The thickness of 2.5 cm has nothing to do with the screen, but remains quite substantial too. Just like the weight of 1.822 kg, which definitely prohibits the MagicBook from being an ultraportable – but with these dimensions, it is difficult to ask for less… or more, finally, you understand.
The finish of the MagicBook 16 is pleasing to the eye and pleasing to the touch. The aluminum chassis looks engaging and solid. We are clearly not in the best market, but once again, the price explains and excuses things. Frankly speaking, for this price positioning, the result is very good.
From an ergonomic point of view, there is no fatal failure. The keyboard is pleasant enough to use, although not backlit – really? The keys are well sized, the stroke is quite short, even if it lacks a little firmness, and even rigidity. The central part of the keyboard has a slight tendency to sink when typing, adding to the general softness. The noise produced sounds a little plastic, and is obviously not nearly as pleasant as on a Mac or a Microsoft PC, but gives a pleasant rhythm when typing long texts.
We also appreciate the few house keys, which give quick access to the Windows screen capture tool, for example, or to the collaboration tools integrated into the brand's PCs, and which allow you to easily exchange data in its ecosystem. Ditto for the key that activates or deactivates the Webcam, those who take their privacy to heart will appreciate.
On either side of the keyboard, there are speakers, which offer a clear sound, but lack a bit of bass, midrange and precision. The built-in speakers will be sufficient for listening to some music while working, watching a film or a series, but not for adding sound to your student evenings or even for listening to music in the shower. Except to approach the MagicBook, at your own risk.
The touchpad is responsive, producing a serene click when in use. However, you will have to get used to using the lower two thirds of the trackpad so as not to have to press too hard. The lower part could have been neater. It is certainly pleasant to use, but sinks and creates a space with the edge of the case when it is used. A word of advice, avoid eating chocolate when you work… Finally, it could be criticized for being a bit small, especially since the case could offer it more space.
Space, Honor has found on the edges of the sides to integrate a fairly varied and sufficient connection for the most common uses. On the right, two USB-A ports, on the left, two USB-C ports including one for power supply and an HDMI port. This will be perfect for outputting the display to an external screen. We could regret that Honor did not integrate an SD card reader into its machine, we will have to learn to do without.
But, as a good modern machine, the MagicBook 16 does not stop there, it offers other interesting options to facilitate the user's connection. Thus, there is a fingerprint reader to unlock the device more quickly. It has always been quick and efficient during our use. On the other hand, do not count on the Webcam to unlock this laptop. She can't. To be honest, she is already struggling when we ask her to film us during a videoconference. The quality is not there, even in bright light. The tingling digital noise is almost disturbing. Its 720p definition did not give hope of a miracle, we don't have one, so everything is in the order of things. You can still use it to chat with your colleagues or say hello to Grandma, if necessary. This webcam, however, has a merit, it now takes up residence in the upper part of the screen, and no longer in a disguised "Function" key. One small step for Honor, one giant leap for humanity.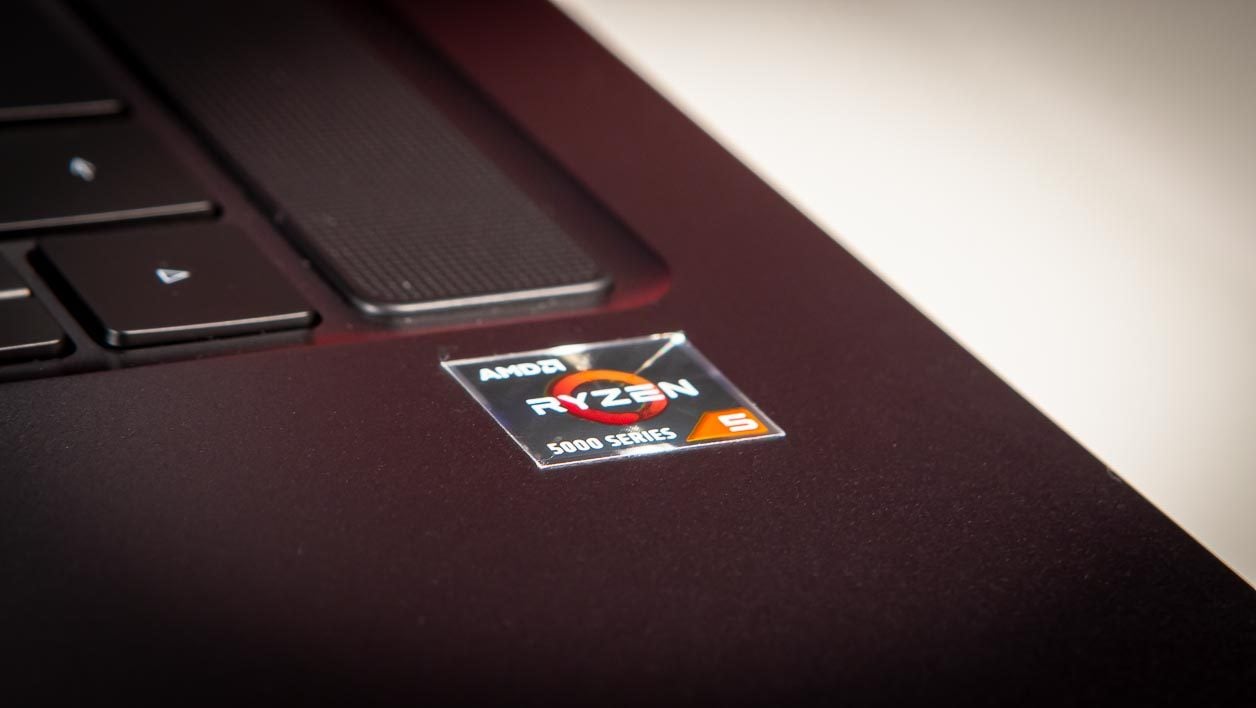 Power to do it all everyday
Honor has chosen an AMD platform for its MagicBook 16. Released some time ago, it was not entitled to the 6000 generation. It is therefore a Ryzen 5, 5600H clocked at 3.3 GHz , found at the controls with an integrated graphics part. A six-core, 12-thread mid-range processor that can be configured to consume between 35 and 54 W by AMD's partners. In this case, during our tests, we measured consumption peaks at almost 65 W for the whole machine, it is possible that Honor has chosen to leave free rein to its Ryzen 5. A choice that does not is not necessarily bad, the MagicBook 16 is clearly not an ultraportable and will remain connected to the mains most of the time.
Moreover, our different benches performance summaries tend to prove that the MagicBook holds up. Compared to nine recent laptops, passed by the 01Lab, it ranks fifth for the CPU part and fourth for the graphics part. It is therefore very far from being ridiculous. PCMark 10 gives it an overall score of 6,002, which allows 01Lab to announce that it is 10.6% more efficient than the average of its competitors.
Its graphics chipset will not save the world, but allows it to do more than office automation. He gets a decent score (16.1% below the average), but assures that he will be able to work on a few tasks a little more substantial than classic word processing. With a little patience, we come to the end of small Full HD or even 4K montages. In this case, the 512 GB SSD – good storage capacity, for this price, thank you – is not the problem in any case. Without being the fastest, it displays read/write speeds of around 3 GB/s.
If you are looking to find the limits of the MagicBook 16, they are often found on the gaming side. However, you can indulge yourself a little bit by cutting back on the requirements.
Can we spin Cyberpunk 2077 tucking in the stomach? The answer is no, or if you're very patient or practiced the contemplative art of video game slideshows… At 17.4 frames per second, minimum, sorry, it's not playable. Same thing for a Red Dead Redemption 2, who likes to expand horizons. With 18.2 frames per second on average, don't count on playing six shots on the MagicBook 16. Let's continue. For Horizon Zero Dawnif you agree to reduce the sails as much as possible, you will be able to obtain around thirty images per second… It's meager and not really comfortable! The Division 2, all at ground level, flirts with 40 frames per second. It becomes fun! And, of course, no worries about running a good old Left 4 Deadeven fully, a Dead Cells Where Door Kickers Action Squad, the fan expresses himself a little, obviously. But the games are running and it is possible to have a little fun between two Excel spreadsheets.
We were talking about the fan a little earlier. It is generally rather discreet. When you're surfing, working in a word processor, or cropping some images, you shouldn't hear it too much. The ventilation may however wake up, sometimes, without knowing why: like when you download a large file for example. If we then lose a little acoustic comfort, we can only appreciate that the temperature never climbs too high. Moreover, Honor does not pretend to disperse the heat produced by the configuration of its MagicBook 16. The two large fans work together with two heat pipes and two radiators. We noted a maximum temperature of 37.5°C for a maximum noise of 40 dB. All this exudes comfort.
An autonomy that forgets to be up to it…
If we do not find much to complain about in terms of power, especially for the price displayed, we are however much more saddened by the autonomy displayed. We hoped that the dimly lit panel would at least save the battery. This does not seem to be the case.
We submit the laptops that pass through our hands to two autonomy tests. One, called versatile autonomy, simulates everyday uses (Web, email, video, etc.) chained until the battery gives up. The other, in video streaming, requires the device to stream the same content on a loop until the battery reaches 0% charge.
For the first, the MagicBook 16 is 15.3% less durable than the laptops we've tested over the past 24 months. With only 6:50 a.m., compared to 8:04 a.m. in average versatile autonomy, we are far from being able to guarantee you a working day in use away from a power outlet. This confirms that this 16-inch will be more of a sedentary machine, which can be moved on occasion.
Autonomy in video streaming is hardly more flamboyant. It is even less good. With a battery life of 5:43, against an average of 6:49, the MagicBook is 16.3% less enduring than the average of its competitors. This gives you time to watch a few episodes on a train journey, but don't make them too long…